What Is the Facebook Timeline?
Your Facebook timeline is what your friends look at to get a sense of your life, and it's also where they leave public messages for you. In this way, your friends' posts become part of your history (just like in real life).
The timeline is the thin blue line running down the center of the screen. Popping out from either side of the line are boxes that represent Events. Think about all the things you learn about a friend the first time you meet his parents, or all the funny stories you hear when your friend's significant other recounts the story of how they met. These are the types of insights that your friends may casually leave on your Wall, making all of your friends know you a little better.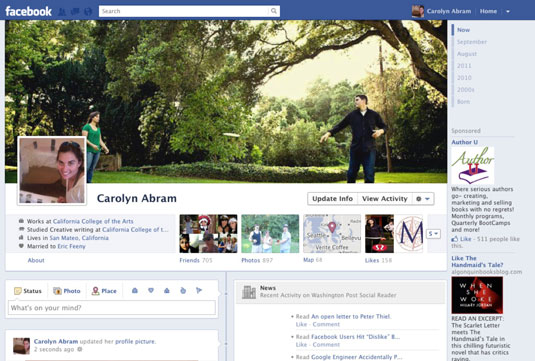 When friends visit your timeline, they'll also see a version of the Share menu that you see. They can't add life markers, but they can post a check-in (Place), a photo, or a text message called a Wall Post (or just post). Check out the Wall posts on your friends' timelines. Chances are you'll see a few "Hey, how are you, let's catch up" messages; a few "That was an awesome trip/dinner/drink" messages; and maybe a few statements that make so little sense, you're sure they must be inside jokes.
If you're on a friend's timeline around his birthday, you are sure to see many "Happy Birthday" posts. There aren't many rules for using Facebook, but one tradition that has arisen over time is the "Happy Birthday" Wall post. Because most people see notifications of their friends' birthdays on their Home pages, the quickest way to say, "I'm thinking of you" on their special day is to write on their timeline.
The back and forth between friends is one of the delights of the timeline, but if you don't like the idea of a friend being able to write something personal on your Wall, you can prevent friends from being able to post on it within your Privacy Settings page. You can also limit who can see the posts your friends leave. From the Privacy Settings page, click Edit Settings in the How You Connect section and look for the settings related to who can post and see your Wall.
The best way to get used to the timeline is to start using it. Write on your friends' timelines, post a status update or a link on your own, and see what sort of response you get from your friends. After all, that's what the timeline is all about — sharing with your friends.