What Can You Sell on Etsy?
Many people think of Etsy as a sort of eBay for arts and crafts. Indeed, Etsy and eBay are similar, but the biggest and most obvious difference is that sellers on Etsy are limited to selling items that meet Etsy's strict criteria.
For more information about what you can and can't sell on Etsy, see the site's Do's and Don'ts page. Specifics appear in the "Shops and Listings" section of this page. If you don't find your answer there, check Etsy's Site Help forum.
In a nutshell, you can sell three types of items on Etsy: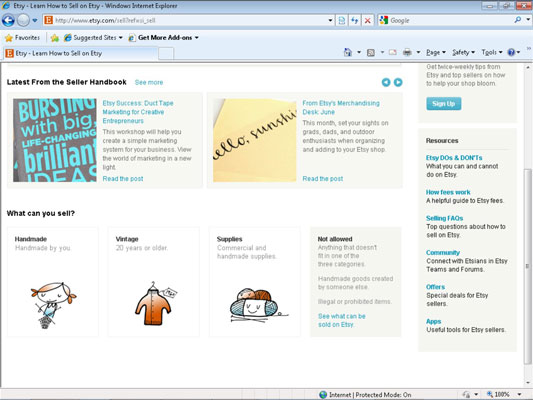 Handmade items

Vintage goods (20 years or older)

Supplies for crafting
Some items transcend these categories. For example, you may have vintage or handmade items that also qualify as supplies. If your inventory includes items like these, you need to decide which category applies best.
Selling handmade items
Etsy's raison d'être is to serve as a marketplace for handmade goods, with no mass-produced items allowed. But the site isn't for selling just any handmade goods. Etsy sellers must offer handmade goods made by them. Selling an item that someone else made, even if it was painstakingly crafted by hand, isn't permitted.
Naturally, this requirement raises a few key questions:
What if you upcycle or otherwise alter an existing item? In Etsy's view, items that are altered by hand in this manner can still be considered "handmade." Note, however, that Etsy doesn't feel that way about items that you've simply tailored, restored, or repaired.

What if you craft an item yourself from a kit? Etsy doesn't view items that you've created using a "ready to assemble" kit as being handmade, unless you substantially alter the design as you work. So if you were planning to profit from your passion for paint-by-number, you may need to rethink your position.

What if someone helps you make your item? Etsy understands that more than one pair of hands may need to touch your item. It's also okay by Etsy if you have an assistant help you with such shop-related tasks as listing items in your Etsy shop, shipping items, communicating with buyers, keeping records, and so on. But you cross a line if that assistant or vendor handles most of the work involved in the item's creation.

What if you creatively repackage a commercial item? Nope. No matter how great the finished product is, you can't list a gift basket stuffed with nonhandmade items and try to pass off the package as a handmade good.
The whole point of Etsy is to enable artisans and craftspeople to connect with buyers. Etsy is more than an online craft fair; it's an attempt to build an alternative, artisanal economy of sorts — one that eschews mass production. If your inventory isn't in line with this philosophy, Etsy may not be the marketplace for you.
Offering vintage items
Although Etsy was originally conceived as a marketplace for handmade goods, it also serves as an excellent venue for vintage goods and collectibles. Items can range from bags to books, clothing, electronics, furniture, jewelry, toys, and beyond.
So how old does something have to be in order to be considered vintage? It depends on who you ask. But if you ask Etsy, the answer is 20 years old. Unless your item was manufactured during Kurt Cobain's lifetime (or before), you need to find another venue for it.
Selling supplies
In an effort to support its crafty community, Etsy allows the sale of commercial crafting supplies on the site: beads, buttons, fabric, findings, paper, patterns, tools, trim, wire, wool, and what-not. Shipping and packaging supplies are also acceptable.
What's not allowed: items that are ready for use as is — such as mass-produced dollhouse furniture and the like. Ditto for mass-produced goods that may be used in conjunction with handmade items but aren't crafting supplies themselves. In other words, although your handmade lip gloss is a totally legitimate item on Etsy, selling the mass-produced brush you use to apply it as a separate item isn't kosher.
Do you have a closet full of crafting supplies? If so, consider culling your collection and listing your leftovers on Etsy. Not only will you pull in a little extra cash, but you'll give those goodies a new lease on life.