What Are the Different Kinds of Charts in PowerPoint 2007?
PowerPoint offers 11 chart categories. Each type of PowerPoint chart gives you a different kind of picture of the information in it. What kind of chart do you need in your PowerPoint Presentation? Perhaps this table can help you decide.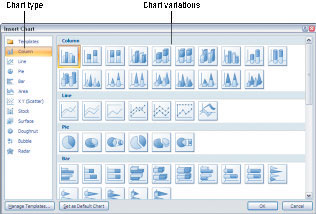 Which chart do you want?
Chart Types

| Chart Type | Best Use/Description |
| --- | --- |
| Area | Examine how values in different categories fluctuate over time, and see the cumulative change in values. (Same as a line chart, except the area between the lines is colored in.) |
| Bar | Compare values in different categories against one another, usually over time. Data is displayed in horizontal bars. (Same as a column chart, except the bars are horizontal.) |
| Bubble | Examine data relationships by studying the size and location of the bubbles that represent the relationships. Bubble charts are often used in financial analyses and market research. (Similar to an XY scatter chart, except you can use three instead of two data series, and the data points appear as bubbles.) |
| Column | Compare values in different categories against one another, usually over time. Data is displayed in vertical columns. (Same as a bar chart, except the bars are vertical.) |
| Doughnut | See how values compare as percentages of a whole. (Similar to a pie chart, except you can use more than one data series and create "concentric doughnut rings" in the chart.) |
| Line | Examine how values fluctuate over time. Data is displayed in a set of points connected by a line. |
| Pie | See how values compare as percentages of a whole. Data from categories is displayed as a percentage of a whole. (Similar to a doughnut chart.) |
| Radar | Examine data as it relates to one central point. Data is plotted on radial points from the central point. This kind of chart is often used to make subjective performance analyses. |
| Stock | See how the value of an item fluctuates, as well as its daily, weekly, or yearly high, low, and closing price. This chart is used to track stock prices, but it can be used as well to track air temperature and other variable quantities. |
| Surface | Examine color-coded data on a three-dimensional surface to explore relationships between data values. |
| XY (Scatter) | Compare different numeric data point sets in space to reveal patterns and trends in data. (Similar to a bubble chart, except the data appears as points instead of bubbles.) |