What an eBay End-of-Auction E-Mail Tells You
You can receive end-of-auction e-mails (EOAs) from eBay on your computer or your cell phone. Although the EOA may take a while to get to you, it contains all the information you need to complete your transaction.
The EOA includes the sale price, quantity, shipping and handling charges, insurance information, sales tax, sale date, and payment details, as well as links to the item's URL and to the seller. You can click a link to update your shipping address. You can even click a Pay Now link that lets you immediately confirm shipping to get the total price and arrange payment.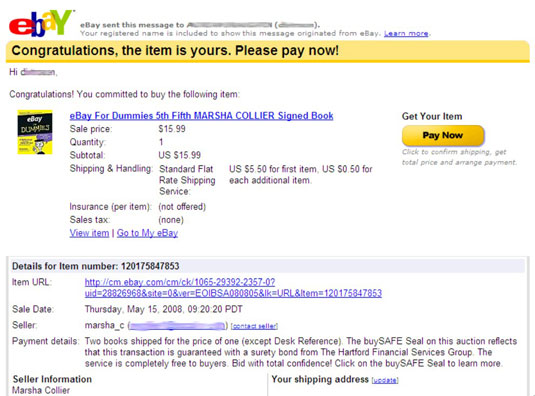 If you can receive text messages on your cell phone, eBay will send EOA notices to your phone. Find out your wireless e-mail address from your cell-phone provider (it's usually available from the provider's home page). Then go to your My eBay page, find the My Account: Personal Information area, and click the Change link. After you've entered your contact information there, click the Change My Notification Preferences link and select which notifications you want sent to your mobile phone. That way, no matter where you are, you'll know when you have won an auction (and need to get payment out ASAP)!