Value and Vision Statements in Business Planning
When writing a business plan, your mission statement and your business goals and objectives provide a road map that will keep your company moving in the right direction, but a map isn't enough by itself.
You also need a good, reliable compass — something that you can count on to keep you oriented, particularly during rocky times. You need a clear set of values and a strong vision:
A values statement is a set of beliefs and principles that exists behind the scenes to guide your business activities and the way you operate.

A vision statement is a precise set of words that announces to the world what your company hopes to make of itself. The vision statement defines your highest aspirations for your business. It explains why you're doing what you're doing, in terms of the greatest good you hope to achieve.
So, what are the values that you hold for your company and your business? You can probably come up with a list off the top of your head. People tend to take values for granted — beliefs and principles that serve as a hidden foundation for what we choose to do and how we choose to get things accomplished.
One way to uncover some of your core values is to consider how you would respond to a series of hypothetical situations — situations that call on you to make difficult decisions. Read through the scenarios presented in this form, and check the boxes that best describe what you would do.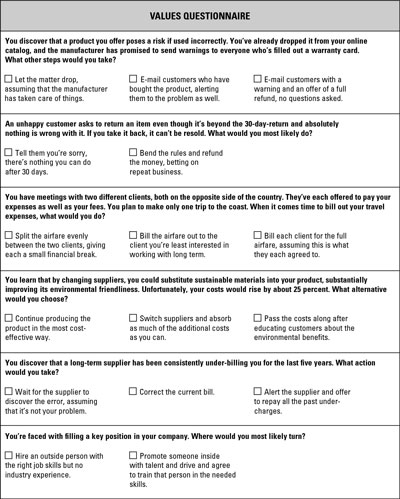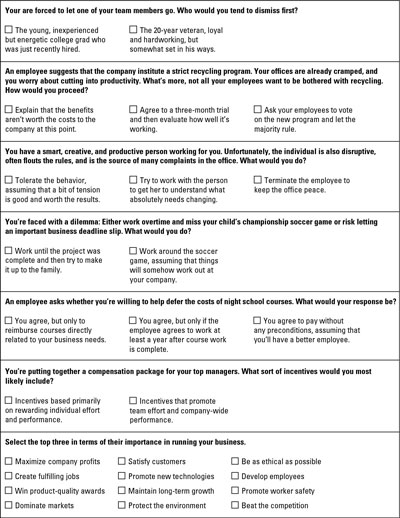 Remember, these questions don't have right or wrong answers. The whole idea of this survey is for you to get a better handle on the set of values you already hold.
Use your responses to the hypothetical situations as a guide when you draft a statement of the values you think are most important to your business. The statement doesn't have to be long and fancy. In fact, a simple list, with values written as plainly and clearly as possible, is an ideal form for a values statement.
When you finalize your values, record them. The figure presents a values statement created by a young entrepreneur who wants to combine his love of art and his commitment to folk artists into a web-based folk art emporium.
A vision statement is a short phrase or sentence that describes the enduring purpose of your business. To distinguish the vision statement from the other statements, remember the following list:
Your mission statement describes who you are and what you hope to achieve.

Your goals and objectives set the mileposts that help you get what you want.

Your values statement reminds you of why you're in business in the first place.

Your vision statement expresses, in the simplest language possible, what you intend your business to accomplish. This statement captures the essential reasons you're in business: the intentions that will remain constant even when strategies and practices — and even your products and services — change in response to a changing world.