Using Facebook Mobile Apps
Mobile Apps are tailor-made by Facebook for specific devices, and the way they work from device to device can differ greatly depending on factors like whether there's a touch screen or not. Right now, Facebook has apps available for the following phone types: iPhone, Palm, Sony Ericsson, INQ, Blackberry, Nokia, Android, Windows Phone, and Sidekick.
The mobile app for each device may look and operate differently. The example here focuses on how the Facebook for iPhone app works, which looks identical to the mobile browser interface for Facebook. If you don't use an iPhone, play around with your own phone; chances are, there are a lot of similarities.
The Facebook app for iPhone is organized exactly like the mobile home page for Facebook.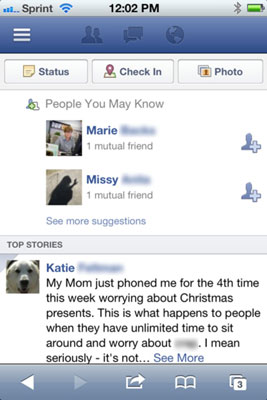 When you tap the top-left corner (represented by the three horizontal bars) of the screen, you see the drop-down menu to access the different parts of Facebook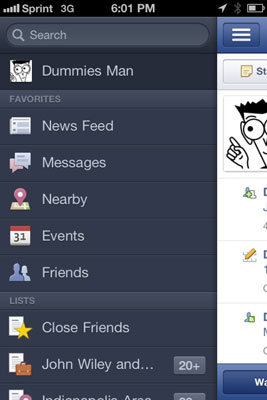 Profile: This menu option takes you to your own Profile. In general, Profiles are organized into the same Wall, Info, and Photo tabs as Profiles on the site; however, each is abbreviated, and any additional tabs that might exist on the real Profile aren't on this version of the website. The Info tab has only basic and contact information. To add something to your Wall, you can use the Share photo or Write Post button located above your Profile picture.

News Feed: News Feed is the same News Feed you see on your computer screen, a constantly updating list of what your friends are up to at this moment. You can comment on and Like posts from News Feed, as well as using the Publisher there to add your own status update or mobile upload.

Messages: This is where you access all your messages. From here, you can compose a new message, delete a message, or reply to one. You will also see the number of unread notifications as a number on the right side.

Nearby: This is an aspect of Facebook that lets you use your phone's GPS to share or check in where you are with your friends. It's so special that it gets its own section. If you see a number next to Nearby, that shows the number of friends that have checked in close to you recently.

Events: This lets you get to any Events you've RSVPed to. This is incredibly useful when it turns out neither you nor your significant other remembered the exact street address of the dinner you're going to.

Friends: The Friends section of the iPhone app should feel fairly similar to your phone's contact list. You can scroll through your friends from A to Z or search them from the search box at the top of the list. Any friends who have phone numbers listed have a big phone icon next to their names. Tap the phone icon to initiate a text or phone call.

Groups: This lets you interact with any groups you are a part of. This way you don't miss out on discussions when you're out and about.

Apps: This brings you to your own Facebook apps, like Photos, Notes, and anything you installed on your Facebook account that would work on a mobile device.

Pages and Lists: These last two options let you go directly to any Pages on Facebook that you follow or any Lists of friends or acquaintances that you have created using Facebook.
At the bottom of the menu is the Account option. This lets you update your Account or Privacy settings, reach the Help center, or log out of your account.