Uploading Web Images to Your WordPress Blog
Adding images to a post is pretty easy with the WordPress image uploader. Jump right in and give it a go by clicking the Add Media icon on the Add New Post page. The Add Media window lets you choose images from your hard drive or from a location on the web.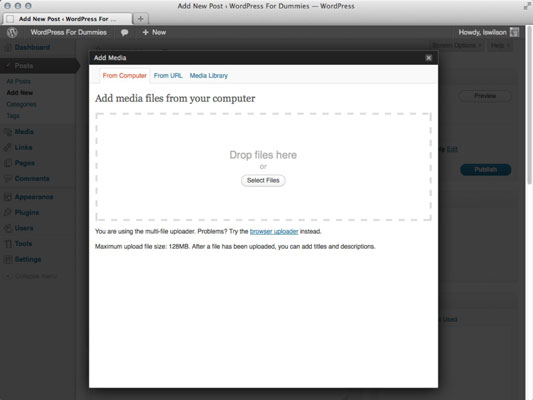 WordPress uses an Adobe Flash–based interface for file uploads. Flash is a specific set of multimedia technologies programmed to handle media files on the web. Some browsers and operating systems are not configured to handle Flash-based applications. If you experience difficulties with the image uploader, WordPress gives you an easy alternative. Click the Browser Uploader link on the Add Media page, and you can use a non-Flash-based uploader to transfer your files.
To add an image from the web after you click the Add Media icon, follow these steps:
Click the From URL tab in the Add Media window.

The Insert Media from Another Website window opens.

Select Image as the file type you want to add.

The other option is Audio, Video or Other File.

Type the URL (Internet address) of the image in the URL text box.

Type the full URL, including the http and www portion of the address. You can easily find the URL of any image on the web by right-clicking (PC) or Control-clicking (Mac) and selecting Properties from the menu.

Type a title for the image in the Title text box.

Type a description of the image in the Alternate Text text box.

The alternate text is what shows in a browser for visually impaired people who use text readers, or it appears when the image does not load properly for some reason. Although alternate text gives the visitors to your site a description of what the image is, adding it is also good for SEO (search engine optimization).

Search engines read the alternate text (also called ALT tags) and give search engines additional descriptive text to further categorize and define your site in listings and directories.

(Optional) Type the caption of the image in the Image Caption text box.

The words you type here display underneath the image on your blog as a caption — if your current theme supports image captions.

Choose an alignment option by selecting the None, Left, Center, or Right radio buttons.

Type the URL you want the image linked to.

Whatever option you choose determines where your readers go when they click the image you've uploaded; you can type in a specific URL or you can select one of the two available presets:

None: You don't want the image to be clickable.

Link to Image: Readers can click through to the direct image itself.

Click the Insert into Post button.