Upgrading Your WordPress.com Software
New releases of WordPress occur roughly every 120 days. Don't be discouraged or frustrated by the number of times you'll upgrade your WordPress installation. Each upgrade improves security and adds new features to enhance your (and your visitors') experience on your website. WordPress also makes the upgrades easy to perform.
The following list gives you some good reasons why you should upgrade your WordPress software each time a new version becomes available:
Security: Most WordPress security failures occur when a user is running an outdated version of WordPress on his website. To make sure that you're running the most up-to-date and secure version, upgrade to the latest release as soon as you can.

New features: Upgrading your WordPress installation ensures that you always have access to the latest and greatest tools and features that WordPress has to offer.

Plugins and themes: To be sure that the plugins and themes you've chosen are current and not breaking your site, make sure that you're using the latest version of WordPress and the latest versions of your plugins and themes.
WordPress keeps a historical archive of all versions they've ever released. None of the releases found on the WordPress website is safe for you to use except for the latest release in the 3.0.x series. WordPress just likes to have a recorded history of every release for posterity's sake.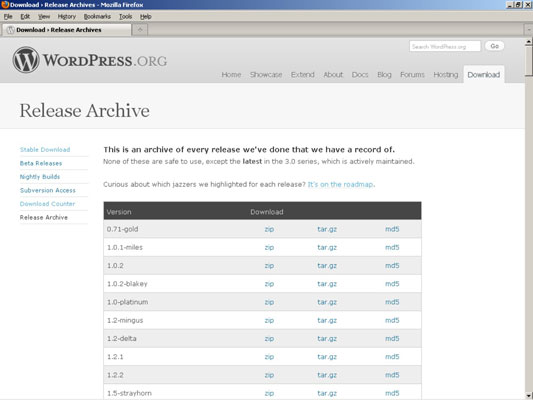 You have several ways to stay up-to-date on what's going on in the world of WordPress development, including blog posts, live chats, development meetings, tracking tickets, and bug reports, just to name a few. The following list gives you a solid start on where you can go to stay informed:
WordPress Development Updates: The WordPress development team's blog is where you can follow and keep track of the progress of the WordPress software project while it happens. You find agendas, schedules, meeting minutes, and discussions surrounding the development cycles.

WordPress developers' chats (irc.freenode.net in #wordpress-dev): Using an Internet chat program called IRC (Internet Chat Relay), WordPress developers gather weekly to discuss a predetermined agenda of items that need to be addressed during the development cycle. You're invited to join the IRC chat room to listen in, or participate, if you want to. (You can download a free IRC program called mIRC for PC users, or a program called Ircle from for Mac users. Follow the program's user manual for instructions on how to use IRC to chat via the Internet).

WordPress Trac: Here are ways to stay informed about the changes in WordPress development:

WordPress mailing lists: Join mailing lists focused on different aspects of WordPress development, such as bug testing, documentation, and hacking WordPress.
WordPress development moves pretty fast. Often, changes in the WordPress software's development cycle occur daily. While the developers are working on alpha and beta versions and release candidates, they commit the latest core changes to the repository and make those changes available to the public to download, install, and test on their own sites. The changes are released in a full WordPress software package called a nightly build — which contains the latest core changes submitted to the project, changes that have not yet released as a full and final version, yet.
Using nightly builds is not a safe practice for a live site. Create a test environment to test the nightly builds. Many times, especially during alpha and beta phases, the core code may break and cause problems with your existing installation, so use nightly builds in a test environment only and leave your live site intact until the final release is available.