Understanding Facebook Pages
When you're thinking about creating a Facebook Page to keep in touch with fans or customers, the most important thing to keep in mind is that Pages are like the Profiles of your friends. However, you don't friend Pages; you Like them. And when you Like a Page, it doesn't get to see your private info. You can do many of the same things with Pages that you can do with friends such as write on their Walls, tag them in posts, and so on.
The anatomy of Pages should feel pretty familiar to you; they're meant to be just like Profiles.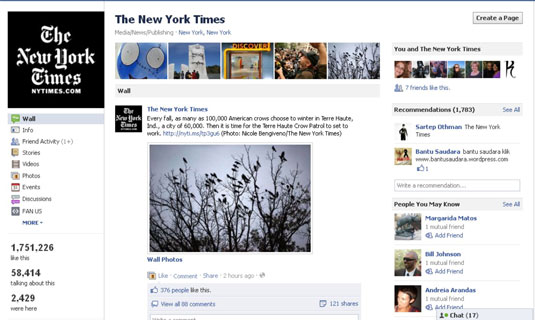 Here's the anatomy of a Fan Page, across the top from left to right:
Profile picture: Just like you and your friends, Pages choose one photo to represent themselves across the site. Usually, it's a logo or an official press photo.

Like button (not pictured): Before you become a fan, you will see a Like button to the right of the Page's name. Click this to connect with the Page.

Row of Photos: Thumbnail photos the page has added also appear in a row above the Wall.

Wall (and Publisher): The Wall is the heart of a Page. It's where the Admins can post updates and where fans can leave Wall posts and comments
The following appear down the left-side menu:
Tabs: Pages have many of the same tabs that your Profile does: Wall, Info, Photos, and Notes. Pages do have a few more options in terms of adding custom tabs to represent themselves.

Fans: The number of people who Like this page is tallied on the left side.

Likes: Pages can Like other pages, and any ones they've listed as a Like appear here.

Action links: At the bottom of the page are links that you need only occasionally. They include both a Report page, which you use to report an offensive page or one that violates your intellectual property, and Unlike, which you use to remove your affiliation with a page.
Wherever you go on Facebook, and in many places across the entire Internet, you'll see links and buttons prompting you to Like something. You can Like photos, statuses, comments, articles, websites, videos . . . if it's online, you can probably Like it.
When you Like a Page, you become a fan. Being a fan accomplishes a few things:
Gives you a News Feed subscription: After you Like a Page, you may start seeing its status updates and other posts in your News Feed.

Updates subscription: Liking a Page subscribes you to receive Updates.

Provides access to the Wall: Not all Pages allow fans to post on their Wall, but many do.

Displays the page you Liked on your Profile: It's important to keep in mind that when you Like a Page, it appears in the Activities and Interests section of your Profile, and by default, this section is visible to Everyone.