Type on the Onscreen Keyboard on Your Surface
There's a free keyboard built into every Surface: the onscreen keyboard, also called the virtual or glass keyboard. (Microsoft's menus sometimes refer to the onscreen keyboard as the Touch keyboard, not to be confused with the Surface's Touch keyboard cover.)
The onscreen keyboard will never outperform a real keyboard for speed. But with practice, your typing speed will improve.
If you've attached your Touch or Type keyboard, the onscreen keyboard stays hidden. But when your keyboard is detached or folded behind your Surface, the onscreen keyboard is ready for action.
To type something on Windows 8's new Start screen or its apps, tap in the area where you'd like to type. As you tap, the onscreen keyboard automatically fills the screen's bottom half, ready for you to begin typing.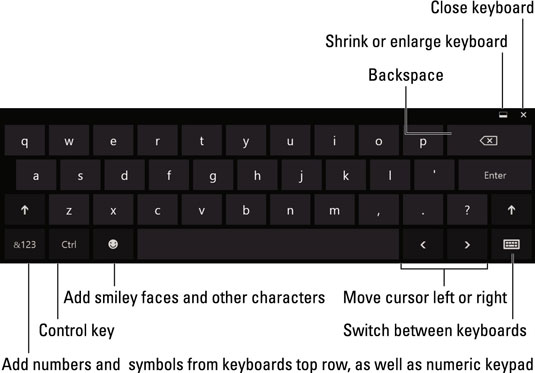 The Windows desktop isn't as friendly, unfortunately; tapping in a text box doesn't automatically summon the onscreen keyboard. You must manually summon the keyboard by tapping the keyboard icon on the taskbar along the desktop's bottom edge.

The keyboard looks and behaves much like a real keyboard, with many of the same keys. Position your fingers over the keys the best you can and start typing. As you type, the letters appear onscreen.
Typing on glass is completely foreign to many people, and it's an oddly unsettling experience. Try these tips when typing for the first few days:
Tap the Shift key to type an uppercase letter. (The Shift key automatically turns off after you've typed that first letter.) To turn on the Shift Lock, tap the Shift key twice. When you're through typing uppercase letters, tap the Shift key again to turn off Shift Lock.

If you're accustomed to pressing keyboard commands like Ctrl+V for Paste, press the Ctrl key, and some of the keyboard's keys will change. The word Paste appears on the V key, for example. Other keys sprout labels, as well, letting you know which key you need to press to Select All, Undo, Cut, Copy, or Paste.

Need a numeric keypad? Press the &123 key in the bottom-left corner, and the keypad appears, along with a Tab key and the brackets and symbols usually found on most keyboards' top row.

When you're through typing, remove the keyboard from view, if necessary, by pressing the X in the keyboard's upper-right corner. The keyboard vanishes, leaving you with a full-screen view of your work in progress.