Tweak the Current App's Settings on Your Windows 8 Tablet
The Charms bar's Settings icon on your Windows 8 tablet lets you tweak the settings of the app you're viewing. It also serves as a gateway for tweaking many of your tablet's most common settings.
To change your currently viewed app's settings, summon the Charms bar by sliding your finger in from the screen's right edge. When the Charms bar appears, tap the Settings icon. The Settings pane appears.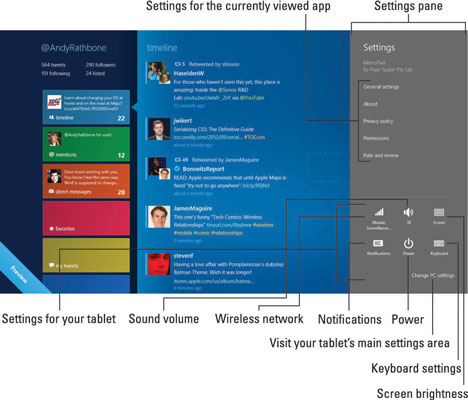 Along the top of the settings pane, you see the settings available for the app you're currently viewing onscreen, and along the bottom, you see settings for the things you're most likely to tweak on your tablet:
Networks: Look here for your wireless signal strength, as well as the name of the wireless connection that's currently pouring the Internet into your tablet. (Tap it, and you can turn on Airplane Mode before flying.)

Volume: Tap here to fetch a sliding volume control. Slide the bar up to increase the sound; slide it down to lower it.

Screen: Tapping here brings a sliding control for screen brightness. (Tap the monitor icon atop the sliding control to lock your tablet's rotation control, keeping it from constantly moving right-side up.)

Notifications: Designed for people tired of seeing notifications about Instant Messages and other tripe popping up on their Start screen, this button lets you turn them off for one, three, or eight hours so you can get some work done.

Power: Tap here to Sleep, Shut down, or Restart your tablet.

Keyboard: This lets you switch between different keyboards or languages, depending on how your tablet's manufacturer set it up.

Change PC Settings: Tap here to visit the Start screen's PC Settings area, a gold mine of settings for tweaking the Start screen to meet your particular needs. (Visit the PC Settings area's Personalize section, for example, to customize your tablet's Lock screen, Start screen, and your account picture.)