The Nikon D7100's Automatic Mode Settings
Your first step in taking advantage of easy-breezy shooting on your Nikon D7100 is to set the Mode dial to Auto, or Auto Flash Off or Scene. Remember that you must press and hold the center button in order to rotate the Mode dial.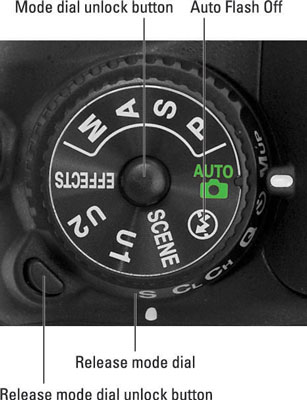 Here's a recap what each setting offers:
Auto Flash Off does the same thing as Auto but without flash.

Scene gives you access to 16 automatic modes geared to shooting specific types of pictures.
Even in these automatic modes, you have a few ways to control the camera's behavior. The most important settings to check before you compose the photo are the following:
In fact, if you're not up to sorting through any of these choices, ignore everything but the focusing method, Vibration Reduction setting, and the Release mode setting. After all, the default settings are chosen because they're the best solutions for most shooting scenarios.