The Difference between a Website and a WordPress Blog
A website and a blog, whether created through WordPress or another platform, are really two different things. Although a website can contain a blog, a blog doesn't and can't contain a full website.
A blog is a chronological display of content, most often posts or articles written by the blog author. Those posts are published and, usually, categorized into topics and archived by date. Blog posts can have comments activated, which means that readers of a blog post can leave their feedback and the blog post author can respond, thereby creating an ongoing dialog between author and reader about the blog post.
A website is a collection of published pages and sections that offer the visitor a variety of experiences or information. Part of the website can be a blog that enhances the overall visitor experience, but it usually includes other sections and features.
The following figure shows the front page of a personal blog. Notice that the site displays a chronological listing of the most recent blog posts. WordPress is used primarily as a blogging tool.
In contrast, the business website shown uses WordPress as a CMS to publish a full website. This site includes a static front page of information that acts as a portal into the rest of the site, where you find a blog, portfolio of work, a contact form, an order form, and various static pages used to tell visitors more about the business.
The static pages include services, FAQ (Frequently Asked Questions), Terms of Service, Privacy Policy, and more.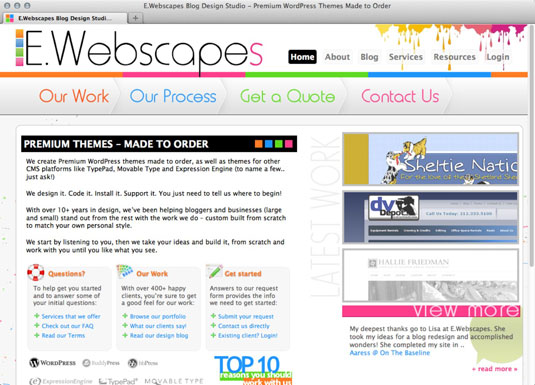 Using WordPress as a CMS means that you're using it to create not just a blog but an entire website full of sections and features that offer a different experience for your visitors.