Ten Third-Generation iPad Apps Worth Paying For
Lots of great free apps are available for your iPad. But as the old cliché goes, some things are worth paying for. Still, none of these ten for-pay apps are likely to break the bank. As you're about to discover, some apps in this list are practical, and some are downright silly.
Bill Atkinson PhotoCard
Bill Atkinson PhotoCard is a free app that lets you create gorgeous high-resolution postcards and send them via either e-mail or the U.S. Postal Service. Sending postcards by e-mail is free, and so is the app.
You can have printed postcards sent via USPS for $1.50 and $2.00 per postcard, depending on how many print-and-mail credits you purchase. The 8.25-x-5.5-inch postcards are, in a word, stunning. Printed on heavy glossy stock on a state-of-the-art HP Indigo Digital Press, then laminated for protection, they're as beautiful as any postcard you've ever seen.
You can use one of the 200 included Bill Atkinson nature photos, or you can use any picture in your Photos library. You can add stickers and stamps, and you can even add voice notes to e-mailed cards.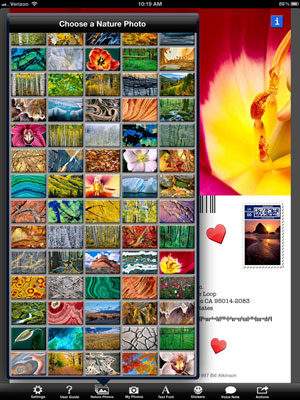 Words with Friends HD
Words with Friends HD ($2.99) is a social game and a ton of fun. It's kind of like playing SCRABBLE with a friend, but because it's turn-based, you can make a move and then quit the app and do other stuff.
When your friend makes his next move, you can choose to be notified that it's your turn by sound, onscreen alert, and/or a number on the Words with Friends icon on your Home screen.
SCRABBLE
Playing the $9.99 iPad version of SCRABBLE (from Electronic Arts and Hasbro) is the closest thing yet to replicating the experience of the famous crossword board game on an electronic device. For starters, check out the gorgeous high-definition graphics. The sounds of tiles placed on the virtual board are realistic, too.
In fact, you can build a decent case that SCRABBLE on the iPad even beats the original board game.
ArtStudio for iPad
Do you fancy yourself an artist? ArtStudio for iPad is the program for you. Even if you have limited artistic talent, you can see that this app has everything you need to create awesome artwork.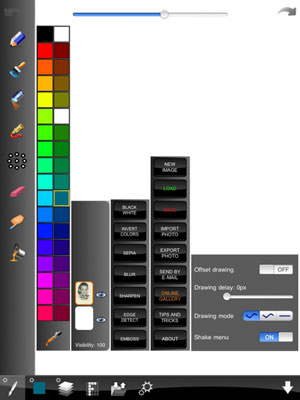 AppSmile.com rated it 5 out of 5. SlapApp.com also rated it 5 out of 5. And by all means, check out what talented artists can do with ArtStudio for iPad at Flickr and Artist In Vermont.
Pinball Crystal Caliburn II
Good pinball games require supremely realistic physics, and Crystal Caliburn II ($3.99) nails it. The way the ball moves around the tables and interacts with bumpers and flippers is so realistic that you'll think you're at an arcade. It's so realistic, in fact, that you can shake the table to influence the ball's movement.
Another hallmark of a great pinball game is great sound effects, and this game doesn't disappoint. The sounds the ball makes when it bounces off a bumper, is hit with a flipper, or passes through a rollover are spot-on and totally authentic.
Art Authority for iPad
Art Authority (only 44.99) is like an art museum you hold in your hand; it contains more than 50,000 paintings and sculptures by more than 1,000 of the world's greatest artists. The works are organized into eight period-specific rooms, such as Early (up to 1400s), Baroque, Romanticism, Modern, and American.
In each room, the artworks are subdivided by movement. The Modern room, for example, has works of surrealism, cubism, Fauvism, Dadaism, sculpture, and several more.
Solar Walk — 3D solar system
This handsome animated $0.99 guide to the night sky from Vito Technology — it was recently refreshed to take advantage of the Retina display — will delight astronomy students and really anyone fascinated by outer space, even if purists scoff that Pluto, no longer considered a planet, is included in the solar system model.
From the start, you're taken on a virtual tour through the galaxy to the Earth. You can search planets, satellites, stars, and more and travel through time and space with a Time Machine feature. Animated movies cover topics such as Earth's Cycles, Solar Eclipse, and The Moon Phases.
What's more, the app can exploit 3D, provided you supply your own anaglyph-style cyan-red 3D glasses. And if you hook the iPad up to a 3DTV using an HDMI adapter, you can get a true sense of the depth and sheer size of the solar system in 3D, while controlling what you see on the screen through the iPad.
Instapaper
Instapaper is a $4.99 iPad app that lets you save web pages from your computer or iPad web browser and read them later on your iPad whether or not you have an Internet connection. Although it may sound similar to Safari's Reading List, Instapaper lets you read saved pages even with no Internet connection.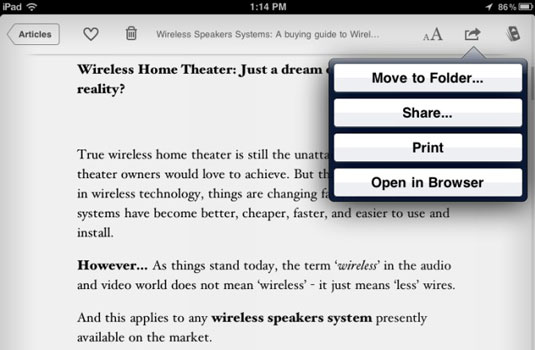 Bento 4 for iPad
FileMaker's Bento "personal database" programs for the Mac and iPhone tend to be more inviting for mainstream consumers. The same goes for Bento 4 for the iPad, which, at $9.99, strikes a real bargain.
Indeed, Bento should appeal not only to salespeople, marketers, and field workers, but also to students and pretty much anyone who wants to keep on top of hobbies, projects, lists, events, and then some.
If you need a full-featured database solution, check out Bento's big brother, FileMaker Go for iPad, a $39.99 app that runs most databases created with FileMaker Pro on a Mac or PC.
ZAGAT restaurants
ZAGAT, from Handmark, lets you access the popular Zagat ratings for more than 30,000 restaurants around the world.
The $9.99 price (for annual up-to-date listings) is less than the print version of a local Zagat edition. iPhone owners who purchase the app can also use the iPad app for no extra charge. It works the other way too, so if you buy the app first for the iPad, you can also have a version of it on an iPhone.