Ten Essential Tips 'n' Tricks for Windows 8 Tablets
There are a lot of tips and tricks you might need to know to get the most out of your Windows 8 tablet. Although it's difficult to limit it to ten, here are ten essential tips and tricks to wring the most out of your Windows 8 tablet.
When lost, swipe in from the screen's left edge
Whenever you tap a link or another app on your tablet, the new item fills the screen, pulling you in deeply. When you finally close the app, the Start screen jumps in to fill the void.
But what were you working on before you went off track by tapping the link?
To find out, swipe in from the screen's left side. Your original app fills the screen, bringing you full circle to where you were before the distraction.
Shrink information into groups
When faced with an overwhelming amount of information, pinch it into smaller groups. The pinch shrinks the information down into manageable groups, letting you tap the group you want to read.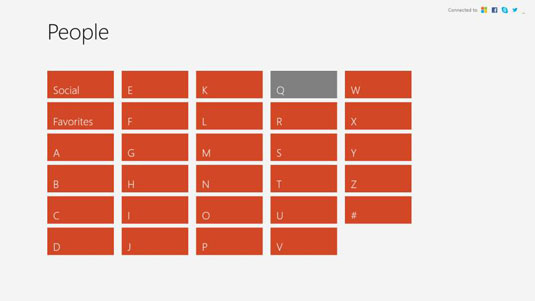 This works on the Start screen, as well as many bundled apps: News, Finance, Weather, Travel, People, Store, and others.
After the information is shrunken into categories, you can jump between categories much more quickly.
Search for items by typing directly on the Start screen
When you're searching for something, start typing its name directly onto the Start screen. Windows clears the screen and begins listing matches.
The Search pane clings to the screen's right edge, letting you direct your search away from apps and into other areas:
Settings: Tap Settings from the Search pane, and your tablet lists camera-related settings.

Files: To see any files containing the term camera, tap Files; the screen shows any of your files mentioning the word camera.

Specific apps: Beneath the list of Apps, Files, and Settings, the Search pane lists specific apps. Tap one of those — Netflix, for example — to search for movies relating to the word camera.
Select Start screen tiles
Some items seem difficult to select, a precursor to deleting, moving, renaming, copying, or any other host of tasks. For example, a tap on a Start screen tile opens it rather than selects it. Holding down a finger on the tile doesn't fetch a menu. Perplexed finger jabs just scroll the item back and forth.
The trick to selecting difficult items like Start screen tiles is to slide your finger across them in the opposite direction that they scroll.
Start screen tiles normally slide from right to left. So, select them by sliding your finger up or down across the tile. This works when selecting photos, e-mails in the Mail app, and many other seemingly difficult-to-select items.
Move your favorite to the Start screen's top-left corner
The tile resting in your Start screen's top-left corner holds a special power: It launches when you press Enter. Put the Desktop tile there, for example; then, when you plug in a keyboard and press Enter, the desktop will be waiting for you.
After selecting a tile, keep your finger held down, and then slide your finger to the screen's top- left corner. When the tile reaches the Start screen's top- left corner, lift your finger, and the tile stays in its new location.
Stop the screen from rotating
Most of the time, you want the screen to rotate as you hold your tablet. That way, the screen's always "right side up." Occasionally, though, you don't want it to rotate – perhaps you're reading a book or browsing websites.
To keep the screen from rotating, open the Charms menu and tap Settings. When the Settings pane appears, tap the screen icon near the bottom right.
When the brightness bar appears, look at the Rotation Lock icon atop the bar; tap that icon to toggle autorotation on and off.
Some tablets also come with a dedicated Rotation Lock button on one side. (Next to the Rotation Lock button, look for a symbol of a rectangle and two arrows.)
Tweak your app's settings
Every app offers a way to fine-tune its behavior through the Charms bar's Settings area. When something about an app irks you, see if you can change it: Fetch the Charms bar by sliding your finger in from the screen's right edge and tapping Settings. If an app can be changed, the Settings pane offers a way.
Keep your apps up-to-date
Windows 8's app ecosystem is new, and many publishers release updated versions of their apps on a regular basis. To find and install updates for your apps, keep an eye on the Start screen's Store app.
When apps are available, a small number appears in the Store's lower-right corner. Spot a number? Tap the Store app to find and install waiting updates.
Use the Charms bar for apps
It's easy to open an app, and then begin searching its menus for basic things like search, print, or even a way to adjust settings.
Yet, they're all there, and you've used them before: The Charms bar works not only on the Start screen, but on every app you download from the Windows Store.
Looking for a movie in the Netflix app, for example? Fetch the Charms bar, and tap Search, and enter your sought-after film in the Search pane.
And if you need to print, open the Charms bar, tap Devices, and choose your printer from the Devices pane. (Not all apps can print, unfortunately.)
Zoom in on awkward websites to touch tiny buttons
When faced with a tiny button on a website, straddle the button between your thumb and index finger. Then move your fingers apart as if you're stretching the screen. As you move your fingers, the screen enlarges. The screen looks a little hazy as it enlarges.
But when you lift your fingers, the screen pops back into focus, with everything much larger. And, of course, that tiny button is now finger-sized and easy to tap.
Pinch the screen between your fingers to return it to a comfortable size.