Shooting Mode Options on Your Digital SLR Camera
After you set up, it's time to decide on a shooting mode. What you decide affects how much control you have over your dSLR, and to what purpose. There isn't a wrong choice here. Some people prefer to let the camera handle most of the work; others want more control.
Automatic shooting modes are fantastic helpers. The camera takes most of the load off your shoulders and lets you concentrate on framing up the shot and having fun.
Most automatic modes are right on the camera's mode dial. Simply dial them in and start shooting. Here's a rundown of the types of automatic modes you might run across:
No matter how smart or technically driven you are, it can be fun to just take pictures.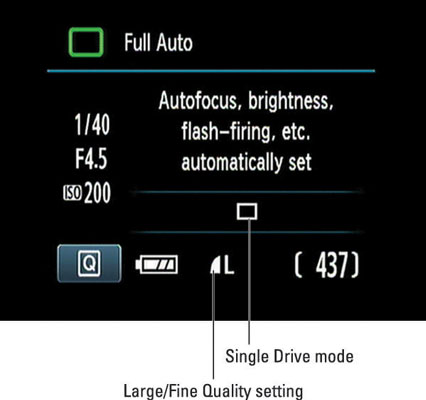 Option 2: Guided creativity
These different modes share an important feature: They help guide your creativity. You don't have to do a lot of camera-wrangling when using these modes.
These modes are often located on the mode dial, but you may have to make several selections or choices before you can start shooting.
Guided/Creative Auto
Guided Auto and Creative Auto modes are automatic, but give you several options for how the photos should turn out. New Nikon cameras have a Guide mode that walk you through a series of situations or goals to get to the right setup; this mode is highly interactive. Canon's equivalent is the Creative Auto mode. It's less interactive than Nikon's Guide mode, but has some of the same goal-driven choices.
Scenes
Scenes — often represented on the Mode dial by small symbols — are different. Some of the symbols can be small, which means you may need to refer to your camera manual to decode them the first few times.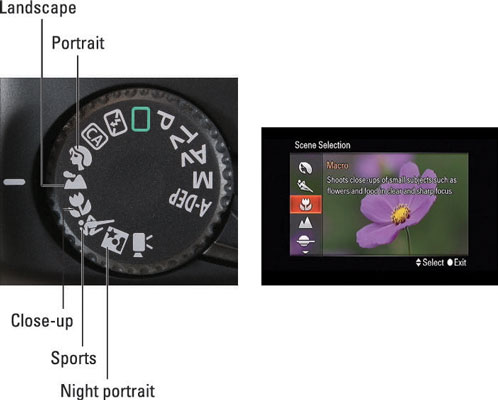 Some cameras have a Scene mode position on the mode dial. Select this mode on the dial and then choose a specific scene from the camera display.
Here's a menu that represents many of the scenes you have to choose from:
Specialty modes
Sony cameras have a few specialty modes that deserve consideration:
Other cameras have these types of specialty modes:
Option 3: Classic creative modes
Three classic creative modes are shown on a mode dial. They all evaluate the exposure automatically. The main decision you're left with is what aperture and shutter speed to use.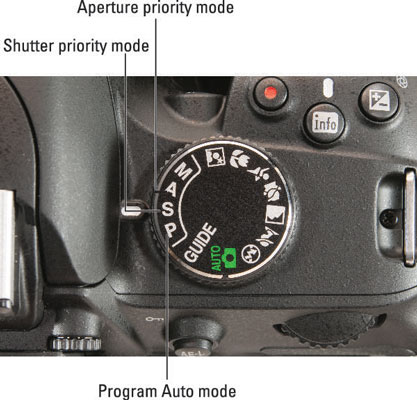 The modes follow:
Option 4: Full manual
Switch to Manual mode when you want full control of the camera. This means you can exercise as much or as little control as you want.
You have two manual modes, which are shown on a mode dial: