Share iPhotos on a Mac with Facebook, Twitter, and Flickr
You can upload iPhotos from your Mac to Facebook, or add them to a tweet on Twitter. iPhotos you share on Facebook end up on your Facebook wall or in designated Facebook albums. You can even change your Facebook profile picture from iPhoto.
If your Facebook friends happen to comment on the pictures you've shared in Facebook, you can read those comments right in iPhoto. If Facebook friends tag names of the people in your pictures, those tags are synced to your iPhoto library (and yes, you can add those monikers to Faces). If you name the people in the pictures you've uploaded through Faces, those folks are notified, too.
To share a photo in iPhoto using Facebook, highlight the picture, click the Share button, and choose Facebook from the menu that appears. Select where you want the picture to land on Facebook: your wall, an existing album, or a new album. You get a chance to type in a comment before clicking Publish to post.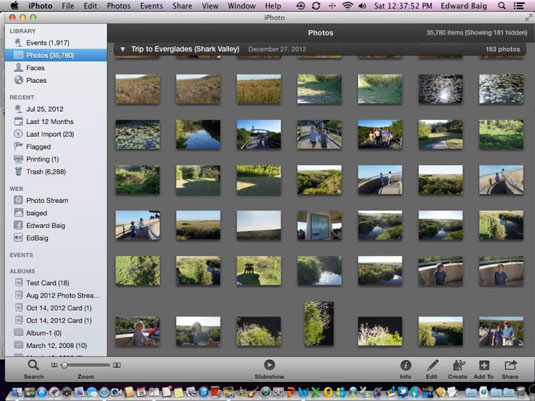 If you decide to share an iPhoto image using the popular microblogging Twitter service instead, your photo will be attached to a Twitter share sheet. You can add your location and type a tweet to go with the picture − up to 119 additional characters.
You can transport your pictures from iPhoto to the Internet cloud in other ways, too. If you click Share, you also have the option to publish photos to the Flickr online photo-sharing site. You'll need a free account for this purpose, which you can set up using your Yahoo! credentials if you have them; Yahoo! owns Flickr.
Apple used to provide a direct way to dispatch photos to its web page and blog creator iWeb. The direct option was removed in iPhoto 9.4 as Apple moves away from iWeb. You can still create an album in iPhoto and separately open iWeb. Using the Media Browser in iWeb, click the Photos option to find the album you've just created.