Send Personalized Invoices to Your eBay Buyers
Although it can be helpful to automate your eBay business, you should take the time to personalize even your canned e-mail responses. If you decide to send automated responses, choose a program (such as eBay's Selling Manager), that allows you to customize your e-mail, combine multiple wins, and apply the correct shipping costs the first time.
Have you ever received a bulk-generated, boilerplate buyer's confirmation letter? The seller hasn't bothered to fill in half the blanks, and you're almost insulted just by having to read it? Receiving a note like this after you've requested that the seller combine purchases (and the letter pays no attention to your request) is especially annoying. E-mails can cross, but a personal approach goes a long way with customers.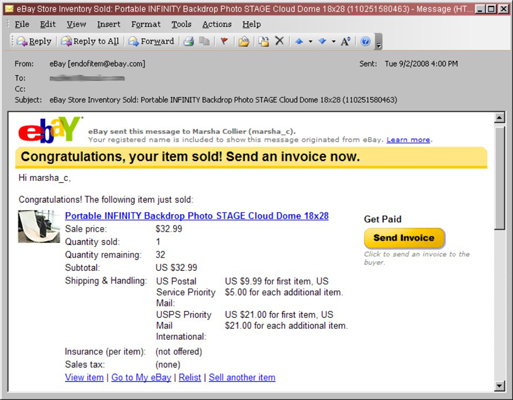 eBay's e-mail to the seller upon a completed sale.
When you sell an item, you receive a notification from eBay, as shown in the figure. When you get this e-mail, simply click on the yellow Send an Invoice button to send an invoice to your buyer. Here are some ideas to keep your communications safe, efficient, and professional:
Send the invoice from your My eBay page: For security's sake, go directly to your My eBay page, find the sale, and send the invoice from there. That way, you won't accidently be fooled into clicking a link in a phishing e-mail (a message that's not from eBay and is designed merely to steal your user ID).

Combine purchases when you can: If the buyer has purchased more than one item from you, you'll see a note from eBay indicating this. Be sure to click to combine purchases so you can combine shipping and get your payment quickly.

Include special offers: At the end of a buyer's notice letter, offer your buyer some special discounts or other offers from your eBay Store if you have one. Include a few items this particular winner may be interested in (based on the current win) and include a link to your site. Also include the reminder that you can combine postage — and that you look forward to a response.

An eBay invoice, as sent to a buyer.
If you want to send the invoice from your My eBay page, just click the Send Invoice option from the drop-down menu in the Items I've Sold area, verify all the information, and click Send Invoice. If you select the Copy Me check box on this invoice, you receive a copy. The buyer's copy has a link, enabling the buyer to pay directly through PayPal. The figure shows what the invoice e-mail looks like.