Publications That Follow Cause Marketing
There are so many different ways to find out about cause marketing. It's worth noting that three sources, Ad Age, The Huffington Post, and Mashable, have sections dedicated to the cause world. Ad Age has Good Works, The Huffington Post has HuffPost Impact, and Mashable has Social Good. You should subscribe to these individual sections, but you can benefit from reading the general publications as well.
You probably hear enough about the nonprofit world already. Read articles about seemingly unrelated topics in business, education, technology, and government and make the connections to cause marketing that others haven't. The words, "I wonder if we took this idea and applied it to . . . ." are how new ideas are born.
Ad Age
You should subscribe to several daily Ad Age e-newsletters, including Ad Age Daily and Ad Age MediaWorks. While these newsletters closely follow the news and trends of the advertising world, cause marketing, social media, location-based services, and other emerging technologies are a key focus.
For example, consider this story on how the Girl Scouts are using Facebook and mobile payments to boost cookie sales. This is a great story about how a Silicon Valley dad started a Facebook page so that friends and coworkers would know where his daughter was selling Girl Scout cookies.
When people asked if they could buy the cookies with credit instead of cash, he signed up for Square, a credit card payment device that attaches to your smartphone and allows you to accept credit cards. In the first hour, the Girl Scouts sold 400 boxes.
Something is learnable in this article about giving, Facebook, mobile payments, and just how darn popular those Girl Scout cookies are!
Want to be a smart cookie? Have Ad Age delivered to your inbox for free and read it every day.
Ad Age story on Girl Scouts using Facebook to sell cookies.
Philanthropy.com
Philanthropy.com is the online home of The Chronicle of Philanthropy, the No. 1 source of information and news for nonprofit leaders and fundraisers.
If you're a nonprofit, your office may already receive the print version of the Chronicle. It's a wonderful publication, but you can follow the Chronicle's online activities via Twitter. @Philanthropy (Twitter.com/philanthropy).
From the Philanthropy Twitter handle, you can link to great posts and are the first to hear of upcoming nonprofit webinars on everything from corporate giving to social media.
You can also follow Philanthropy by Liking its page on Facebook. (Facebook Pages Philanthropy).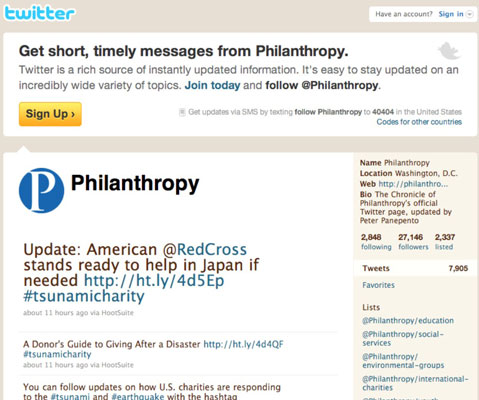 @Philanthropy on Twitter.
The Huffington Post
The Huffington Post is a popular online news site started by Arianna Huffington in 2005. You can learn a lot from The Huffington Post, but your daily reading assignment is in HuffPost Impact, where The Post's cause writers and bloggers discuss issues surrounding causes, including cause marketing.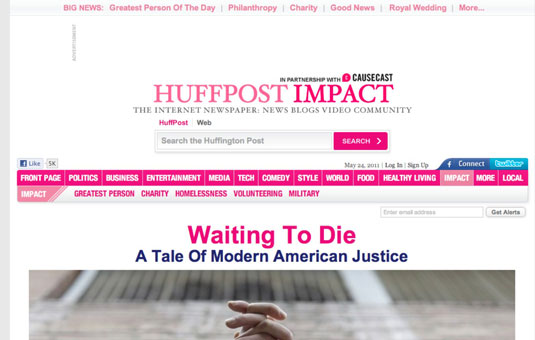 HuffPost Impact focuses on causes.
Mashable
Mashable is a top source for news in social and digital media, technology, and web culture. It's also a great resource for the latest info and trends on digital cause marketing.
You can read Mashable online, or you can join the millions of followers and friends of Mashable's Twitter handle (Twitter.com/mashable) and Facebook page (Facebook Mashable) that choose to get their updates there.
Follow Mashable on the web and @mashable on Twitter.