Promoting Your Business with a Facebook Page
Businesses and groups use Facebook Pages to spread the word about their product or cause. After you set up your Facebook Page, click the Wall tab from the left side menu of your Page. This should look pretty familiar to you. It's a lot like a Profile, with a Profile picture, Wall, Info, and Photos tabs in the left side menu. You'll also see a Wall with a Publisher. The right column is taken up with administrative links for managing the Page.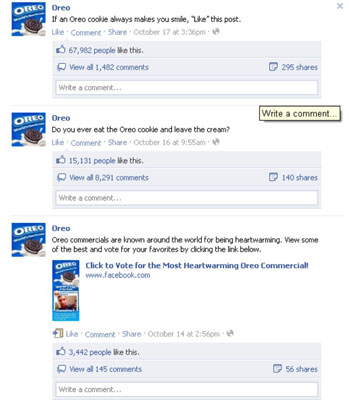 As a Page Admin, the most important part of the Wall to understand is the Publisher. The Publisher is where you and fans create the posts that actually appear on the Wall.

The most basic post you can make is a status update, a short text post letting people know what's going on, what you are up to, thinking about, and so on. To write a status update, follow these steps:
Click Status or straight into the text box in the Publisher

Type your update in the What's on Your Mind? text field.

(Optional) Target your update by clicking the lock icon to the left of the Share button.

Status updates from you as an individual have privacy rules about who can and can't see them. Status updates from you as a Page are targeted, meaning you can define who sees the post. By default, Everyone can see all posts, but you can also choose Customize from the drop-down menu, which opens a pop-up window.

You can target posts to people by location or by language. This is really useful if, for example, your band is going on tour and you want to let people in a specific area know you're going to be there. Language targeting can also be useful if you have an international presence.

Click Share.

The post you've created appears on your Wall and in your fans' News Feeds.
In addition to posting status updates, you can post photos, links, videos, and Questions to your fans.
In addition to the Wall tab, your Page has an Info tab where you can share some of the more basic information about your Page. This may be something like hours of operation (if you're a business) or contact information or information about the cause you are promoting.
To edit the information that appears in your Info tab, click the Edit Page button in the upper-right corner of the Page. This brings you to the Edit Page screen.
Just like the Edit Profile page, the different sections you can edit appear down the left side of the Page. Editing your Page has to do with managing settings as well as managing what people see. To edit what people see in your info, click Basic Information.
Each Page has slightly different fields to fill out based on the category you selected when you created your Page. Most are pretty self-explanatory. You can always change the category of your Page using the drop-down lists at the top of the Page.
Usernames are specialty URLs for directing people to your Page. A specialty URL might be something like www.facebook.com/carolynabram or www.facebook.com/facebookfordummies. In other words, it's a way to direct people to your Page without worrying about them finding you in search. You need to have at least 25 fans before you can create one, but after you reach that threshold, click the Create a Username for this Page? link in the Basic Information tab of the Edit Profile page.
This brings you to the Create Username page. Here you can select from your Pages and then enter the username you'd like.
After you select a username, you can't change it. Make sure you've spelled it exactly how you want it and are very happy with it before you click Confirm.
After you return to the main view of your Page, you'll see several tabs listed down the left side. In addition to Wall and Information, your Page has a number of different tabs that people can visit.