Privacy Settings on Your Kindle Fire
Browsing out there on the Internet can be a bit dangerous, regardless of whether you're browsing from your Kindle Fire or another device. There are people and businesses who want to leave small files on your computer called cookies that they use to track your activities or gain illegal access to your online accounts.
Some uses of cookies are perfectly legitimate and allow a reputable business such as Amazon to greet you with personalized recommendations based on your past activities when you visit their sites. Less reputable sites sell your information to others or advertise based on your online history by displaying irritating pop-up windows.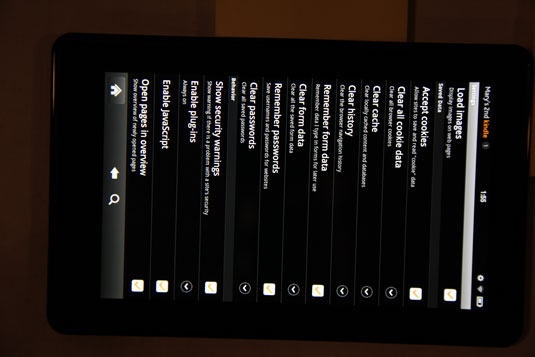 The Privacy settings for Silk help you to stay safe when you're browsing online. Tap the More button on the Options bar, and then tap Settings to view and modify the following privacy settings:
Accept Cookies. Tap this checkbox to stop sites from downloading cookies to your Kindle Fire.

Clear All Cookie Data. You can tap this setting, and then in the Clear dialog box that appears, tap OK to clear all cookies from your device.

Clear Cache. Any computing device holds information in its cache to help it redisplay a page you've visited recently, for example. To clear out that cache, which can also free up some memory on your Kindle Fire, tap OK.

Clear History. Your Silk browser retains a history of your browsing activity to make it easy for you to revisit a site. However, it's possible for others who view your browsing history to draw conclusions about your online habits. To clear your history, tap OK in this setting.

Remember Form Data. If you want Silk to remember data you've entered into forms before — such as your name, mailing address, or e-mail address — to help you complete online fields more quickly, tap this checkbox.

The danger here, and the reason you might choose to deselect this checkbox, is that if somebody gets a hold of your Kindle Fire, they could use this feature to gain access to some of your personal information or use your online accounts.

Clear Form Data. Clears out any form data you've already saved.

Remember Passwords. If you want Silk to remember passwords that you enter for various accounts, tap this checkbox. Just be aware that this setting puts your accounts at risk should you ever misplace your Kindle Fire. One option, if you use this setting, is to require a password to unlock your Kindle Fire Home screen. This setting, which can help protect all content stored on the device.

Clear Passwords. If you previously allowed Silk to remember passwords but have a change of heart, you can tap OK in this setting to remove saved passwords.

Show Security Warnings. This is a handy feature that requires Silk to check for problems with a website you're trying to visit and warn you of any problems with the site. Tap the checkbox to activate the warnings.

Enable Plug-ins. Tap this checkbox to allow plug-ins to run. Plug-ins are small programs that enable functionality in a web browser, such as displaying certain types of content.

Enable JavaScript. JavaScript is used to run some scripts on web pages, but it has some rather legendary security gaps. Some people prefer not to enable JavaScript when they browse for this reason.

Block Pop-up Windows. Tapping this setting opens a dialog box that offers the settings Ask, Never, and Always. You can choose to have Silk ask you whether it should open pop-up windows, never allow pop-ups at all, or always allow pop-ups by tapping the relevant setting.