Plant a Scented Container Garden
Container gardens satisfy your love of scented plants and flowers if you're short on space. Plant this container garden "recipe," and enjoy the wonderful fragrances that drift on the breeze. Reserve a spot for this display near your outdoor seating area so that you can enjoy the subtle scents and captivating colors in this colorful, highly textured ceramic bowl.
Chocolate cosmos heads the list of unusual flowers displayed here, and its mahogany blossoms really smell like chocolate. Scented geraniums spill from the bowl with delicate, dark pink flowers and richly textured foliage that releases a fruity fragrance. Dianthus is the ideal filler with masses of spicy, two-toned flowers. A handful of dazzling white nicotianas, standing tall in the background, complete the picture.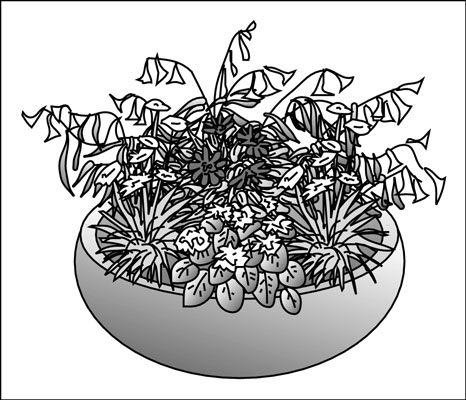 Container: You have a range of colors to choose from when you select a heavy-duty ceramic bowl with a glazed finish. This one — a full 18 inches across — is big enough for a generous collection of plants. Inspect the inside of the pot because you may need to punch out or drill a drainage hole before you plant.

Plants: One chocolate cosmos, one scented geranium, two dianthus, and three nicotianas.

How to plant: Starting in the back, center the nicotianas along the rim. Next, plant the chocolate cosmos in the middle of the bowl, and add a dianthus on either side. Plant the scented geranium along the front rim, giving it plenty of room to spread.

Special tips: Don't worry if it seems like the plants don't quite fill up the bowl — give them time. In fact, plan to trim back wayward stems on the geranium and snip off spent stems on the dianthus. Enjoy the scented blossoms and leaves in the house by snipping stems and leaves at their summer peak. This also helps keep plants within your container's boundaries. All the plants except the nicotiana are perennial in mild-winter climates; in cold regions the plants will need winter protection