Muscles of the Elbow and Forearm
The muscles of the arm are responsible for the movement of your elbow and, by extension, your forearm. Five muscles originate on either the humerus or the scapula and insert onto the bones of the forearm to flex and extend the elbow: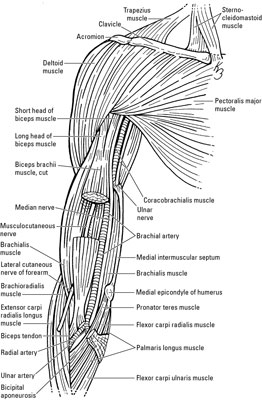 The elbow has three bursae tucked in and around the tendons to help them glide over the bones.
Intratendinous olecranon bursa: Present in the triceps brachii tendon

Subtendinous olecranon bursa: Located between the olecranon and the triceps tendon

Subcutaneous olecranon bursa: Located in the connective tissue that lies over the olecranon
The muscles in the forearm supinate and pronate the forearm. Remembering which one does which motion is easy, because their actions match their names:
Supinator: This muscle supinates the forearm. It originates on the lateral epicondyle of the humerus, the radial collateral and anular ligaments, and the ulna. It inserts onto the proximal third of the radius, and it's innervated by the deep branch of the radial nerve.

Pronator teres: This muscle pronates and flexes the forearm. It has two heads: The ulnar head originates on the coronoid process of the ulna, and the humeral head originates on the medical epicondyle of the humerus. Both heads insert onto the lateral surface of the radius. It's innervated by the median nerve.

Pronator quadratus: This muscle pronates the forearm. It originates on the distal portion of the ulna and inserts onto the anterior surface of the radius. It's innervated by the anterior interosseous nerve of the median nerve.