Monitor eBay Auctions with the Watch This Item Link
The All Buying page is the hub for several features, including the ability to keep track of eBay bids that you're watching. Have you ever seen an auction that made you think, "I don't want to bid on this just now, but I'd like to buy it if it's a bargain"? Clicking the Watching link from the My eBay Views box will bring you to the Watching page, one of the most powerful features of the My eBay area.
You've probably seen the Watch This Item link at the top of each listing page. If you're watching items (eBay allows you to monitor 200 listings at a time), you'll see a notation on your Watching page indicating how many auctions you're currently watching.
The watch-list function helps you keep your bargain-hunting quiet. Everybody knows when you're bidding on an item; nobody knows when you're watching the deals like a hawk. When you're looking for bargains to buy and resell, you may not want to tip off the competition by letting them know you're bidding.
This page lists each auction with a countdown (time left) timer, so you know exactly when the auction will close. When a listing on your watch list gets close to ending, you can swoop down and make the kill — if the price is right.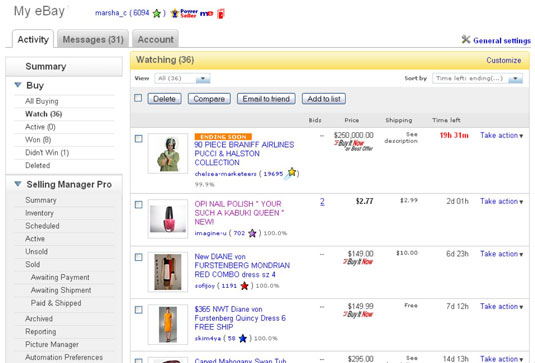 Are you interested in an item? You can observe the bidding action — the number of bids and how fast the price is rising (or not) — without showing your hand to the competition.
Also a handy marketing tool, the Watching page allows you to store listings from competitive sellers. That way you can monitor the status of items similar to ones you plan to sell later — and see whether the items are selling high or low, helping you to decide whether it's a good time to sell.