Manage Printers on a Windows PC
Windows sports a spot for showing which printers are connected to and used by your computer. You can use this box to install a new printer, set the default printer, or remove a printer.
This location has different names, depending on your version of Windows. For Windows 7, it is the Devices and Printers window. In Vista, it is the Printers window and in XP it is called the Printers and Faxes window.
In Windows 7, the Devices and Printers window lists all devices attached to and used by your computer. The printers are grouped separately.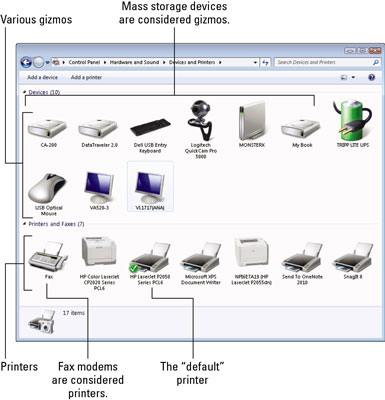 To get to the Devices and Printers window, choose Devices and Printers from the Start button menu. Or, from the Control Panel, choose the link View Devices and Printers, found beneath the Hardware and Sound heading.
In Windows Vista, the window is named Printers, and contains a handy toolbar with buttons. In XP, the window is called Printers and Faxes, and the relevant printer commands appear on the taskbar on the left side of the window.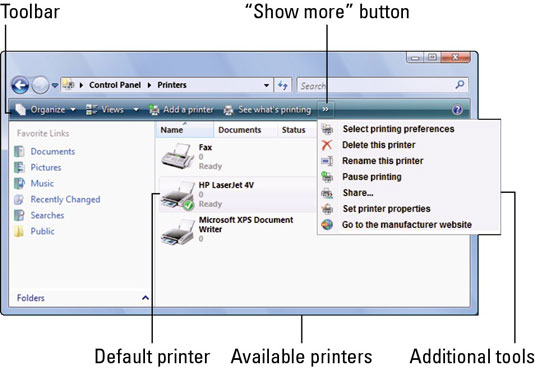 The buttons and menu, or the various printer tasks, appear in the Printers window only when a specific printer is selected.
The easiest way to summon the Printers window in Vista or XP is by choosing either Printers or Printers and Faxes (respectively) from the Start menu. Either is available, however, only when the Start menu is configured to show it. Follow these steps:
Right-click the Start button and choose Properties.

In the Taskbar and Start Menu Properties, click the Customize button.

In Windows XP, click the Advanced tab.

Scroll the list and put a check mark by Printers (in Windows Vista) or Printers and Faxes (in Windows XP).

Click OK and then click OK again to close the open dialog boxes.
If you desire a desktop shortcut icon for the Printers window in Windows Vista or Windows XP, open the Control Panel and right-click either the Printers or Printers and Faxes icon. From the pop-up menu that appears, choose Create Shortcut.