Making a PayPal Payment on eBay
When you buy something in a store, you need to check out to pay. eBay isn't much different. eBay's checkout is a convenient way to pay for your completed auction or Buy it Now sale with a credit card or eCheck through PayPal. You may also use checkout to exchange information with the seller and to pay for your item using a money order, a check, or another payment service that the seller accepts.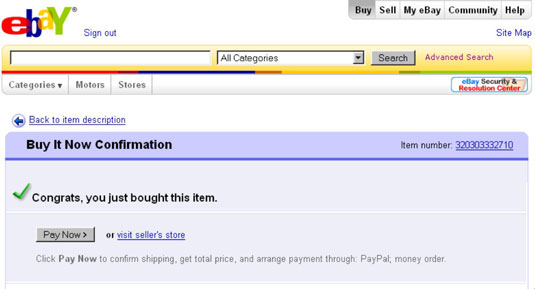 Checkout is integrated directly into the item page so that you can win and pay for an item in less than a minute, as shown here.
Click the Pay Now button.

You're taken to the checkout page.

Assuming that you've already become a registered (verified) PayPal user, you see a place at the very bottom of the page to input your e-mail address and PayPal password. Fill in this info, and click Continue.

A page appears and you must decide whether you want to pay by credit card or bank transfer. If you have a balance in your PayPal account, you must use that money to make your payment; so withdraw your PayPal balance first if you want to pay with a credit card.

Finalize all the details of your transaction by filling in any open blanks and indicating your payment choice.

If insurance is optional, and you don't want shipping insurance, just delete the amount.

If the shipping cost is based on your zip code, or the seller offers discounts on buying multiple items, you can make any such changes on the page and recalculate the total.

If you're unclear about how much you should pay, contact the seller and ask for a total. Then you can go ahead and send the payment.

Double-check that all the information is correct and then click button to make the payment.
If you want some information to go to the seller regarding your transaction, send the information in a separate e-mail message. The Note to seller is buried in a much longer e-mail message that PayPal sends to the seller, and it's hard to find. (PayPal sends sellers an e-mail within a few hours saying that it has received your payment.) So any important messages should be sent separately. Put your transaction number or item name in the Subject line.