Cheat Sheet
Macs For Seniors For Dummies
As a senior citizen entering the world of Macs, you can use a few basic things: a guide to prices and uses for various types of Macs, helpful keyboard shortcuts that get you quickly where you want to go, and web resources that offer tips, tutorials, and products for your Mac. And you can never be too safe, so it pays to know how to avoid potential predators in on the Internet.
Macintosh Price and Power Guide
You're a senior wanting to take a bite out of a nice Macintosh Apple . . . computer. To help you compare and contrast Macs, the following table lists some Mac models and price ranges and tells you what they're best suited to do.
| Model | Suited For | Price Range | Pros & Cons |
| --- | --- | --- | --- |
| iMac desktop | Midrange to power user | $1,200-2,000 | Built-in monitor |
| Mac mini desktop | Entry level to typical home computing | $600-800 | No monitor, built-in DVD drive, keyboard, or mouse |
| MacBook Air laptop | Typical home computing | $1,000-1,600 | No built-in DVD drive |
| MacBook Pro laptop | Midrange to power user | $1,200-2,500 | Built-in DVD drive, but significantly heavier than the MacBook Air |
| Power Mac desktop | Power user | $2,500-5,000 | No monitor |
Top Ten Mac Finder Keyboard Shortcuts
As a senior, you know that your time is valuable. The keyboard shortcuts available on any Mac computer can help you save time, and look like a pro! The following table lists some of the most helpful shortcuts on Apple products.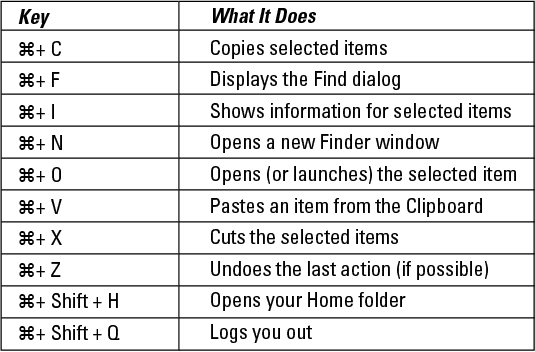 Top Ten Macintosh Websites
You've entered the world of Macintosh in your senior years and want to fully explore the Internet as it relates to Macs and Apple products. Aside from all the great information here at Dummies.com, check out the following list for helpful websites that can steer you to Mac downloads, products, and information:
Top Ten Internet Security Tips
Actually, the tips in the following list are worth following whether you're a junior, a senior, a Mac user, or a PC person. The Internet is full of wondrous sites, but it's also full of unsavory characters you need to guard against. Use the tips here as a guideline to things you should never do and use your own common sense as well.
Never enter personal information in an e-mail message when you don't know the recipient.

Never enter personal information on a website provided as a link in an e-mail message.

Never include personal information in an Internet forum, a discussion group, or newsgroup message.

Never use the same password for all your electronic business.

Never divulge personal information to others over an iChat or instant message connection.

Never use your MacBook on the road without turning on your Lion firewall.

Never buy from an online store that doesn't offer a secure, encrypted connection when you're prompted for your personal information and credit card number.

Never download a file from a site you don't trust.

Never allow a stranger to connect to your Mac using the Screen Sharing feature.

Never allow young children to use the Internet without guidance and supervision.