Landscape Photograph — Walking in Ansel's Footsteps
Visiting Yosemite in the late fall is an incredible experience. The leaves turn color and the weather changes. A storm was approaching during on this evening in Yosemite. As the clouds shrouded Half Dome, the photographer imagined Ansel Adams setting his 8 x 10 view camera on a tripod, waiting patiently for the clouds to assemble, and then taking the picture.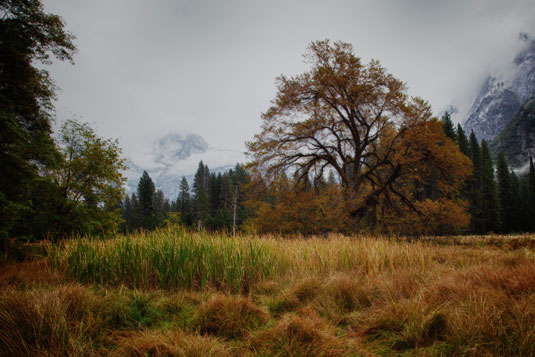 Camera settings
Composing the image
The horizon line was placed in the lower third of the image to draw attention to the beautiful tree that is on the right side of the image. The tree on the left side of the image and the mountain on the right side of the image serve as a frame to prevent an escape route from the image. The final image is an HDR blend of three different exposures to capture the wide tonal range and subtle colors.
Post processing
The images were merged in Lightroom 3 using Nik Software's HDR Efex Pro, using a preset that rendered a realistic presentation of the scene without making the details overly harsh.