Landscape Photograph — A Fog upon the Bay
A photograph from the trip down from Mount Tamalpais. The fog was thick on San Francisco Bay, but it was clear on the mountain. A lonely tree called for a photograph. Instead of recording detail in the landscape, this image is underexposed to render the tree and mountain as a silhouette, which also shows more of the fog detail and saturated the sunset colors.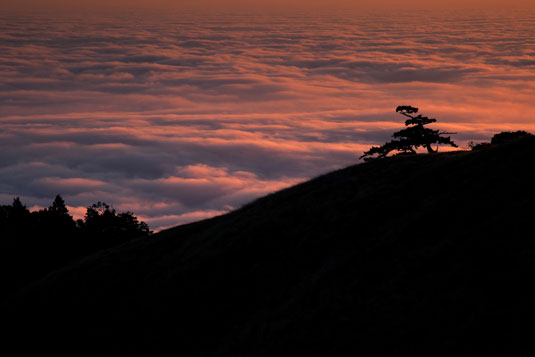 Camera settings
Composing the image
The horizon line was placed in the lower third of the image to draw the viewer's attention to the lonely tree on the right side of the image. The tree also intersects a power point according to the Rule of Thirds. The slope of the hill also guides the viewer through the image.
Post processing
To make the sunset colors pop, a bit of saturation was added to the image. It was also cropped a bit to tighten up the composition.