International Developments in Nanotechnology
Although the United States was the first country to develop cooperative nano-focused efforts, nanotechnology research programs are by no means limited to the United States. More than 60 countries have some form of nano initiative in the works.
Indeed, China, Germany, Japan, and Korea are just a few of the countries that are funding major nanotechnology research and development to stimulate economic growth and address societal challenges such as healthcare and pollution. Several third-world countries also have their own programs because they don't want to be left out of the incredible benefits nano will provide, which they so desperately need.
But it's not just governments getting into nano around the globe. International companies such as Mitsubishi Corporation (automobiles, Japan), Fuji Film (cameras, Japan), Saudi Aramco (oil, Saudi Arabia), Carl Zeiss (optical lenses and microelectronics, Germany), LG Chem (appliances and cell phones, South Korea), and L'Oreal (cosmetics, France) are studying uses of nanotechnology in their industries.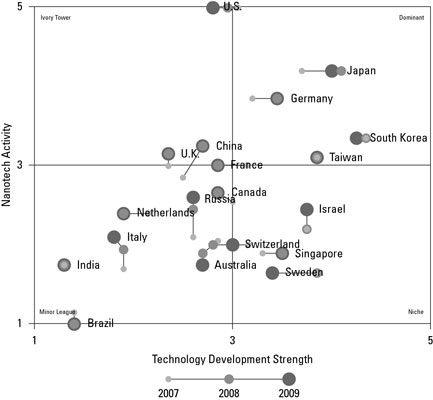 Credit: Courtesy of Lux Research
Nanotechnology research and development activity by country.
Although competition exists among countries to discover the next great nano application, the international cooperation in this field is amazing. For example, about 25 percent of all scholarly papers about nano are written by coauthors from different countries working together.
According to Phillip Shapira, Georgia Institute of Technology and coauthor of a study of international nano-collaboration: "Despite ten years of emphasis by governments on national nanotechnology initiatives, we find that patterns of nanotechnology research collaboration and funding transcend country boundaries. For example, we found that U.S. and Chinese researchers have developed a relatively high level of collaboration in nanotechnology research. Each country is the other's leading collaborator in nanotechnology R&D."