Installing eBay's Enhanced Picture Services
When you take pictures of merchandise that you want to sell on eBay, you can easily upload these images by using eBay's Picture Services program. eBay offers two versions of Picture Services. The basic version, which is shown here, allows you to upload eBay-ready images as they appear on your computer. If you want to rotate or crop the picture, you need Enhanced Picture Services.

The basic Picture Services photo-hosting page.
For organization's sake, you might also consider making a subfolder in your My Pictures directory called eBay Photos. That way you can always find your eBay pictures quickly, without searching through photos of your family reunion.
When you create a listing for an item you are selling, and you reach the part of the Sell an Item form that allows you to add pictures, the screen may look like the above figure. In this case, if you're using Microsoft's Internet Explorer browser (the only one supported now), scroll down and click the Add or Remove Options link.
eBay adds (or removes) your photo options here.
Clicking the Add or Remove Options link causes a window to pop up, as shown here. Click the box next to Show eBay Enhanced Picture Services Options. (Also, click the Host Pictures on Your Server Instead of eBay Servers option if you want to use that in the future?) Click Save.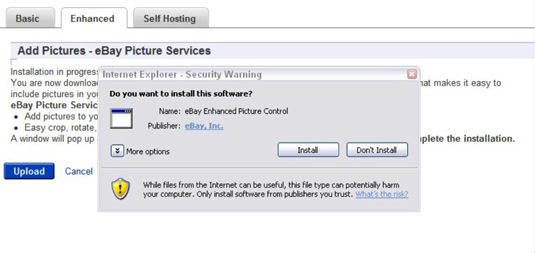 Windows security warning — it's okay to install.
If you've never used eBay's Enhanced Picture Services before, a Windows security warning pops up, asking your permission to install a small program on your computer. This is safe (and the only way you can use eBay's Enhanced Picture Services features), so click Install.
eBay's Enhanced Picture Services.
Once your computer whirs a bit, you'll be sent to eBay's Enhanced Picture Services screen, where you can start to upload your pictures.