Identify Stealth Competitors in Your Business Plan
When developing a business plan, you can usually spot your direct competitors pretty easily. They look a lot like you, offer similar products or services, and go after the same customers and market areas. But you have to watch out for less obvious competitors — known as stealth competitors — who serve the same customers you do, but in different, sometimes unexpected, ways.
Suppose that you're starting a bakery. Your direct competitors are other bakeries within, say, a 10-mile radius. But under-the-radar threats lurk. Most obvious are the bakery sections of grocery stores and restaurants. A little more obscure are bakeries tucked in brewpubs, coffee shops, and health-conscious businesses, or home-based operations selling at increasingly popular farmer's markets.
Competition also hides in grocery aisles, where consumers can buy bake-it-yourself mixes. Plus, weight-loss programs offer bakery-product alternatives. Dieticians work to curb bakery-product cravings. Even the fresh-fruit industry arises as a healthy option to your bakery offerings. In sum, competition is almost always more than immediately meets the eye.
Use the following form as a road map to the kind of information to uncover about your competition.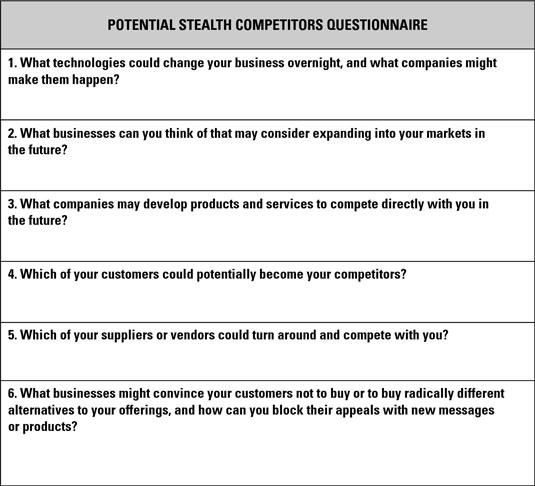 To understand all you're up against, imagine yourself in your customers' shoes and consider every possible alternative — near or far — to the solution your business offers. Here are a few examples:
The corner bookstore that used to compete with the bookstore around the corner now goes head-to-head with the online booksellers, book download sites, and e-book sellers.

The local travel agent now competes with online sites that allow travelers to book hotels, flights, car rentals — even ski equipment — on their own. Suddenly, travel agencies are lonely places, except for the forward-thinking agents who read the competitive tea leaves and focused their efforts on particular market segments and services, such as group sales or high-end, customized tour packages.
When unmasking stealth competitors, don't limit your thinking to Internet offerings. Here's an example of a business blindsided by the impact of a research breakthrough: Makers of flea collars and flea shampoos are slowly fading away because of once-a-month wonder drugs that wipe out fleas.
Take time to list as many potential stealth competitors as you can. After you uncover your stealth competitors, keep track of them, along with all your other competitors, whether stealth, direct, or indirect. Use the questions in the following form to detail the full array of competition you face and uncover indirect threats to your business, including the level of threat each competitor presents today and how you anticipate the threat to grow or recede in the future.