How to Use Windows Vista's Resource Monitor
Monitoring Vista's CPU utilization can give you an insight into why your computer behaves the way it does, but only if you understand what you see. Fortunately, you can use the Resource Monitor to interpret Windows Vista's CPU usage.
The Resource Monitor is normally accessed through the Task Manager. You can open the Task Manager quickly by clicking Start, typing taskmgr in the Start Search text box, and pressing Enter. The Task Manager's Performance tab tracks demand on your processor and memory, as well as other key resources.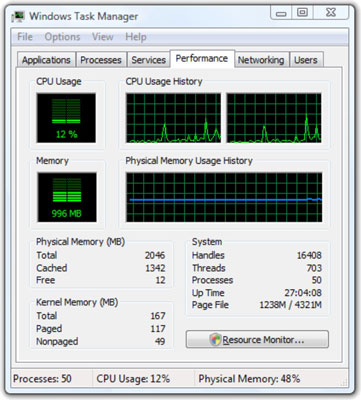 To get a better understanding of how your system is running, bring up Vista's Resource Monitor by clicking the Resource Monitor button. The Resource Monitor displays a Resource Overview report like the one shown in the following figure.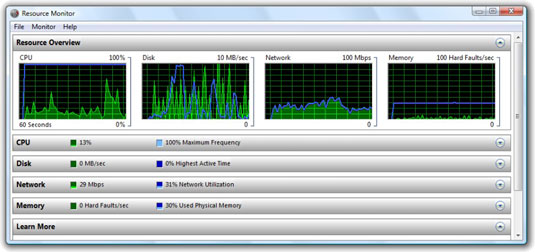 There's an easy way to get to the Resource Monitor if the Task Manager is closed. Click Start, type perfmon /res (note that there's a space before the / and no space after), and press Enter.
The Resource Monitor graphs track four components and two indicators for each component. Each of the components has its own list with supporting details: