How to Use Twitter on your Android Tablet
The best way to use Twitter on the Android tablet is to already have a Twitter account. Start by going to Twitter on a computer and following the directions there for creating a new account.
After you've established a Twitter account, obtain the Twitter app for your Android tablet. The app can be obtained from the Google Play Store. Get the Twitter app from Twitter Inc. (The Play Store features lots of Twitter apps, or clients.)
When you start the Twitter app for the first time, touch the Sign In button. Type your Twitter user name or e-mail address and then type your Twitter password. After that, you can use Twitter without having to log in again — until you turn off the tablet or exit the Twitter app.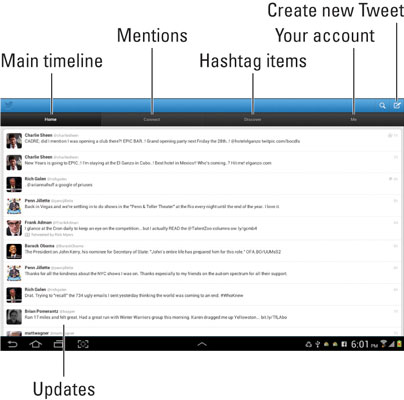 The Twitter app provides an excellent interface to the many wonderful and interesting things that Twitter does. Of course, the two most basic tasks are reading and writing Tweets.
To read Tweets, choose the Home category to view the timeline. Recent Tweets are displayed in a list, with the most recent information at the top. Scroll the list by swiping it with your finger.
To Tweet, touch the New Tweet icon. Use the New Tweet screen to compose your Tweet.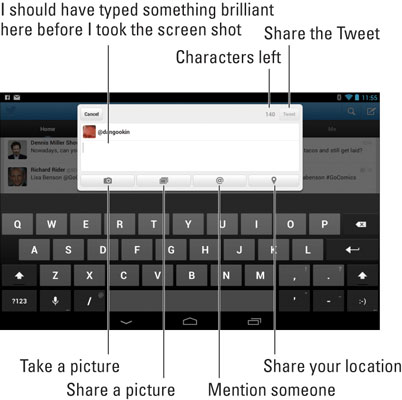 Touch the Tweet button to share your thoughts with the Twitterverse.
You have only 140 characters, including spaces, for creating your Tweet.

The character counter in the Twitter app lets you know how close you're getting to the 140-character limit.

Twitter itself doesn't display pictures, other than your account picture. When you send a picture to Twitter, you use an image-hosting service and then share the link, or URL, to the image. All that complexity is handled by the Twitter app.

The Twitter app appears on various Share menus in other apps on your Android tablet. You use those Share menus to send to Twitter whatever you're looking at.