How to Use to Your Android Tablet's Address Book
To peruse your Android tablet's address book, start the Contacts app. You may be blessed to find that app's icon on the Home screen. If not, touch the Apps icon on the Home screen, and then touch the Contacts app icon on the Apps screen.
The Contacts app may have a different name on your tablet. It may be called the People app, for example.
The Contacts app shows a list of all contacts in your Android tablet, organized alphabetically by first name.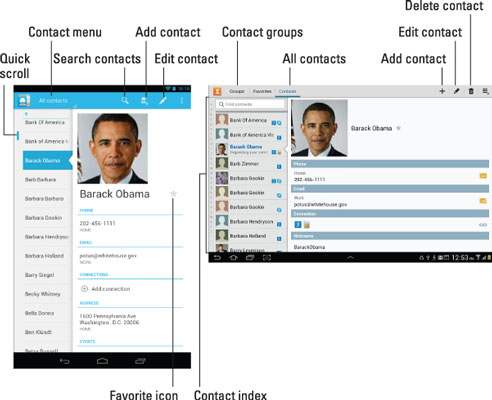 Scroll the list by swiping with your finger. Or you can drag your finger along the left side of the screen to quickly scan the list.
To do anything with a contact, you first have to choose it: Touch a contact name, and you see detailed information on the right side of the screen. The list of activities you can do with the contact depends on the information shown and the apps installed on your tablet. Here are some options:
Send e-mail: Touch the contact's e-mail address to compose an e-mail message using either the Gmail or Email app. When the contact has more than one e-mail address, you can choose to which one you want to send the message.
View social networking status: Contacts who are also your social networking buddies can display their current status. The status may appear at the bottom of the info list in the Contacts app. You might see a View Profile item or a Social Network Feeds button, which lets you see all social networking status updates for that contact.
Place a phone call: Yes, an Android tablet is not a phone, but when you install Skype, touching a contact's phone number activates that app, and you can use the tablet to make a call.
View address on a map: When the contact has a home or business address, you can choose that item to view the address using the Maps app. When you choose the Maps app, you can then get directions, look at the place using the Street View tool, or do any of a number of interesting things.
Some tidbits of information that show up for a contact don't have an associated action. For example, the tablet doesn't sing Happy Birthday when you touch a contact's birthday information.