How to Use Facebook Mobile Texts
Mobile Texts are the most basic way to use Facebook on your phone. You don't need a camera on your phone or a smartphone to get use from Mobile Texts. Using just a simple SMS (Short Message Service) or text message, you can update your status to let people know where you are and what you're up to.
Here are the various actions you can take on Facebook via SMS:
Update your status: You can type in any sort of phrase and it will appear on your Facebook Profile and in your friends' News Feeds with a little mobile icon next to it so people know you're on the go.

Add a new Facebook friend: Using your phone to immediately friend a person you meet is less formal than exchanging business cards, less awkward (and more reliable) than exchanging phone numbers, and gives you more flexibility later for how you want to get in touch. However, remember that by friending someone from your phone has all the same implications as friending someone from your computer, so add wisely.

Subscribe to a friend's status updates: Send the word subscribe, followed by your friend's name. If you have a few friends who you like to hear absolutely everything from, this is a great way to keep up on the go.

Unsubscribe from a friend's updates: Send the word unsubscribe followed by their name. If you realize you want fewer people's statuses coming straight to your phone, just unsubscribe from the ones you don't want to see on your phone.

Stop getting texts: Text the word stop.

Restart getting texts: Text the word on.
To activate Facebook Mobile Texts, go to the Mobile tab of the Account page; click Edit next to the Notifications section and then select the Text Notifications are On radio button.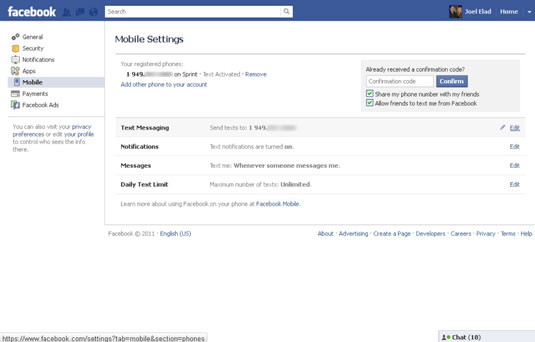 The Notifications section of this page also allows you to control the following options:
Receive text notifications from friends only: The text notifications you get can be modified from the Notifications tab of the account Page (more on that in a minute). The Receive Text Notifications from Friends Only check box here controls whether you receive text notifications of message from friends only. This means that if, for example, you get texted whenever you get a new message, you can choose to only receive texts about messages from friends. Messages from strangers won't be texted to you.

Text times: You can specify what time you prefer to receive text notifications so, for example, if someone Pokes you at 2 a.m., you don't have to wake up for it.

Whose Status Updates Should Go to My Phone: Simply type the name of the friend you want to subscribe to into this text box and press Enter.
The Daily Text Limit section allows you to modify the number of text messages you receive per day. If you have a mobile plan for which you're charged per text message (and you're exceedingly popular), use the settings that limit the number of messages Facebook sends you per day. Otherwise, you might have to shell out some big bucks in text message fees.
From the Account page, you can also jump into your Notification settings, where you can control which notifications go to your e-mail account and/or to your phone.