How to Upload Images to Your ISP Using FireFTP
When you list an item to sell on eBay, the first image that you upload is free. If you include multiple pictures in your listings, you can save money by uploading your pictures to your Web site or to your ISP's Web space. If you use the Firefox browser, you can use its free FTP program, FireFTP, which is reliable and easy to use. You can add FireFTP to your Firefox browser (Mac or PC) by visiting fireftp.mozdev.org.
Everyone who connects to the Internet from his or her computer has an ISP. You pay this company a monthly fee for the privilege of hooking up to the Internet using their servers. AT&T Worldnet, Earthlink, Road Runner, AOL, or a local provider in your area are examples of ISPs.
Many ISPs give you a minimum of 5MB of space to put a personal home page on the Internet. You can usually store your images for your eBay sales there — unless your provider has some strict rules about not doing that (it's a good idea to check first).
After you install FireFTP, open it and follow these steps to upload a file to your ISP server:
Click Manage Accounts→New.

The Account Manager appears.

Type the name of your ISP in the Account Name box.

Where prompted, type the FTP address for your ISP account and then click Next.

Type the user name and password that you use to log in to your Internet account. Then click OK.

Click the Browse button to locate the directory on your computer where you store your eBay images.

Selecting your default directory.

Click OK and you're good to go.

Signing onto your FTP space.
From this point on, every time you click the Connect button, FireFTP logs on to your Web space and displays the screen shown in step 5. Note that the left side of the program is open to the directory you selected as the default for your eBay images. The right side of the screen shows what is currently on your ISP-provided home page.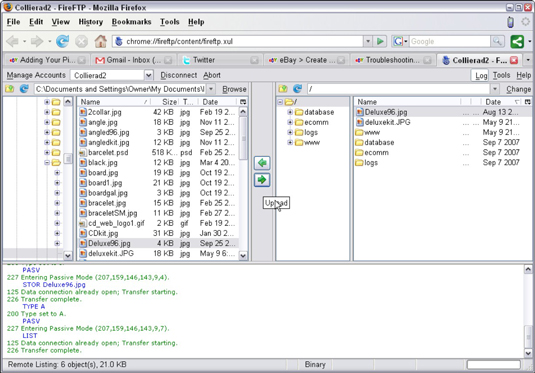 Instant image upload!
To upload an image, highlight it and click the transfer arrow in the center. The image is immediately uploaded to your Web space!