How to Test Your Business Plan Ideas
After some combination of brainstorming, market analysis, and a few random flashes of brilliance, you may accumulate a drawer full of promising business ideas. Following are two guidelines to help you separate the real opportunities from the fluff:
Focus on the ideas that you're really excited about. Your passion is what will keep you motivated on the road to success.

Pursue ideas that you can follow through on. If you feel you don't have the means or the drive to take an idea from the drawing board to the real world, scrap it.
To help you choose among your ideas, complete a Business Opportunity Evaluation Questionnaire like the one shown for each possibility you're considering. Tally your answers and consider any idea with a score of 24 or higher worthy of serious consideration.
The one exception to the scoring: If your promising idea scores high on every question except for number 3 (Is this the kind of business you really want to pursue?), it may be a great idea for someone else — but not for you.
If the idea scores high, it still has to pass other hurdles, but at least you know that it's an idea worth pursuing.
After you've filled out the Business Opportunity Evaluation Questionnaire to separate the promising ideas from all the others, it's a good idea to answer some basic questions that reveal pretty quickly whether or not an idea has what it takes to become a real, live business.
Use the questions in this next form to fill in details and to flesh out some of the issues around your preliminary business propositions. If you give your answers some careful thought, they'll reveal to you the likelihood of an idea breaking through as your winning business concept.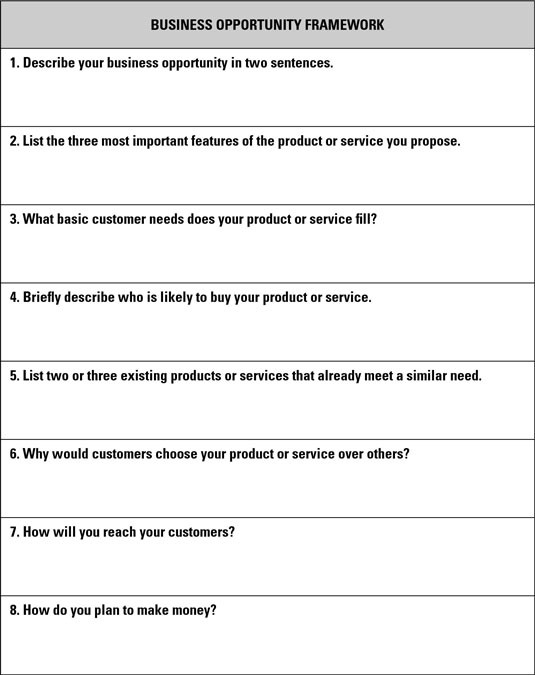 If you find yourself struggling to come up with answers to the questions, your idea may be too sketchy to evaluate. That doesn't mean you should abandon the idea, but you should take the time to understand the opportunity more fully before taking it to the next stage in the business development process.
For example, if you can't easily describe the customer need you're filling or how you plan to make money, you still have homework to do.