How to Talk about Office Supplies with American Sign Language
Looking around your cubicle or office, you have many things to sign. American Sign Language (ASL) provides you with a way to communicate what office supplies you have, need, or want to a Deaf colleague or friend. Try the signs in this table.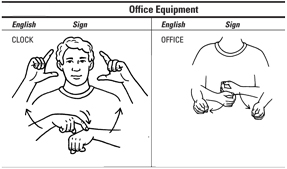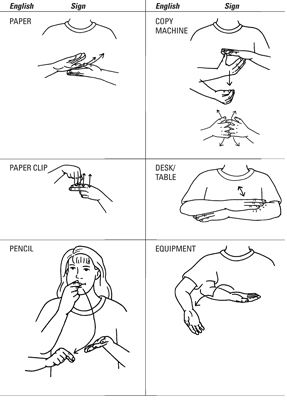 You may find the sign for clock to be a bit tricky, but it's really pretty simple. Touch your wrist where your watch is worn and then make both hands into manual C handshapes toward the wall.
The following sentences can give you a hand with some office items (and because office equipment doesn't always work, signs exist for that, too):
English: The fax machine is busy.

Sign: F-A-X MACHINE — BUSY

English: The copy machine is broken.

Sign: COPY MACHINE — BROKE

English: My computer is frozen.

Sign: MY COMPUTER — FROZE

English: Where is the stapler?

Sign: STAPLER WHERE Q

English: Do we have enough paper?

Sign: PAPER ENOUGH HAVE Q