How to Take a Quick Look in Mountain Lion
The Quick Look command in OS X Mountain Lion displays the contents of the selected file in a floating window. The key point is that you can see what's in a file without double-clicking (to open) it and without launching any application. This is quite handy when you want to peek at the contents of a file without having to open it.
To take a Quick Look yourself, select an icon and do any of the following: Choose File→Quick Look; right-click or Control-click the icon and choose Quick Look from its contextual menu; or use one of its two keyboard shortcuts — Command+Y or the easiest shortcut ever, spacebar.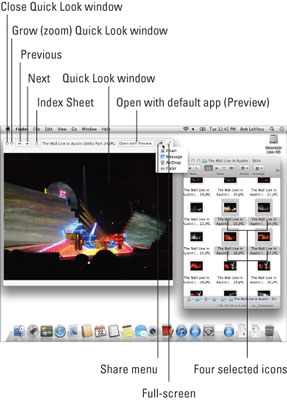 The cool part is that while the Quick Look window is open, you can select different icons in the Finder window and very quickly peek at their contents in the Quick Look window.
The bad news is that while Quick Look works with many types of files — Microsoft Office, Apple iWork, plain-text, PDF, TIFF, GIF, JPEG, PNG, and most types of audio and video — it doesn't work with all files. You'll know it didn't work if Quick Look shows you a big document, folder, or application icon instead of the contents of that file.
If you select multiple items before you invoke Quick Look, three icons appear at the top of the Quick Look window near the left side — the Next, Previous, and Index Sheet buttons. With these controls you can view all of the selected items at the same time as an index sheet, or view them one at a time by clicking the Next or Previous buttons.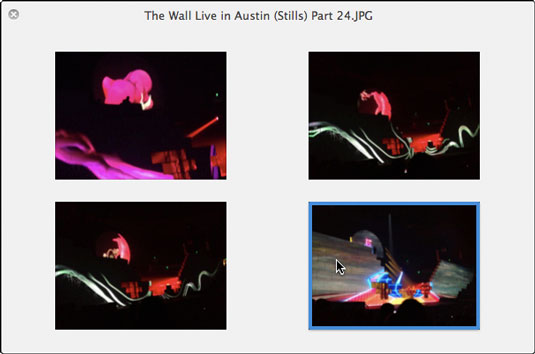 The blue outline around the image at the bottom on the right indicates that the cursor is hovering over that image; if you were to click, that image (The Wall Live in Austin (Stills) Part 24.JPG) would fill the window, and the icons shown at the top of the Quick Look window would reappear.
Share and share alike with the Mountain Lion Share menu
If you use an Apple i-device, you're surely familiar with the rectangular button with an arrow escaping from it. It's called the Share menu and it has four options:
E-mail: Launches the Mail app and attaches the selected file to a blank message, ready for you to address and send.

Message: Launches the Messages (formerly iChat) app and puts the selected file in an outgoing message, ready for you to address and send.

AirDrop: Sends the selected file to other Mac users on the same network with a single click. Note that only Lion and Mountain Lion support AirDrop; earlier versions of OS X didn't include it. And only recent-vintage Macs (say 2010 or newer) can use it.

Flickr: Posts the selected file to Flickr, a popular photo-sharing site. (Note that this option only appears if you've selected an image file. So if you don't see it when you click your Share menu, you've probably selected a PDF or other type of file that can't be uploaded to Flickr.)
Slide into Mountain Lion's Slideshow (full-screen) mode
Quick Look really shines in its Slideshow (full-screen) mode, which you can start with any of these techniques:
Hold down Option and choose File→Slideshow.

Press Command+Option+Y.

If your file is already open in the Quick Look window, click the double-diagonal-arrow button in the upper-right corner of the window.
When you're in Slideshow mode, a completely different set of controls appears on screen automatically.
The Slideshow controls disappear after a few seconds of inactivity; if you don't see them when you need them, just move the cursor and they'll magically reappear.
To exit Slideshow (full-screen) mode, press Esc or click the Exit full screen button to return to the Quick Look window or the Exit Quick Look button to both exit Slideshow mode and quit Quick Look.
When you're finished with Quick Look window, click the X button in the top-left corner; if you're in full-screen mode, click the X button in the slide show control bar; or press Command+Y, which works in either mode.