How to Start Building Your LinkedIn Network
After you sign up for your LinkedIn account, you're ready to look at how to build your network, with tools and forms provided by LinkedIn. Your first step is to decide who you want to invite to connect with you on LinkedIn.
Be sure to completely fill out your profile before you start inviting people to connect. Having a complete profile makes it easier to find former colleagues and classmates. After all, if you invite someone whom you haven't spoken to recently, he will take a quick look at your profile before responding. If he doesn't see a part of your professional history where he knows you, he will most likely ignore your invitation.
Your best bet now is to start using LinkedIn with some thought and planning. Here are some common pitfalls after signing up:
You feel compelled to start inviting friends and colleagues to connect with you right away, before working on your profile or thinking of a strategy.

You get nervous and decide not to invite anybody beyond one or two close friends or family members.

You wonder about the value of LinkedIn and leave your account alone for a long period of time with no activity.
When you want to start using LinkedIn, start by navigating to the home page and clicking Sign In. You will be asked for your e-mail address and LinkedIn password, which you provided when you joined the site. Once you are logged in, you can access any of the functions from the top navigation bar.
To build your profile, roll your mouse over the Profile link in the top navigation bar and then click Edit Profile. You will see your Edit Profile page. Simply click the link marked Add and follow the instructions to fill out your profile.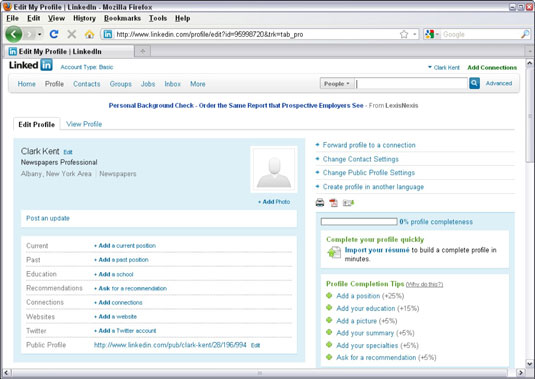 Next, start thinking about who you'd like to invite to your network. LinkedIn provides some neat tools to help you identify, in your existing networks, people you know and trust well enough to feel confident about inviting them and expecting that they will accept.
The multi-faceted Add Connections section of LinkedIn is always available from the Add Connections link at the top right of any LinkedIn page, and it is worth studying for a moment. The Add Connections section, with four distinct tabs (Add Connections, Colleagues, Classmates, and People You May Know) incorporates some basic options to identify and grow your network:
Check the address book for your Web-based e-mail system, like Yahoo!, Gmail, and AOL.

Check your address book for contacts to invite with options for systems like Microsoft Outlook and Apple's Mail app by importing your desktop e-mail contacts with the link provided.

Reconnect with past colleagues by clicking the Colleagues tab.

Find former classmates by clicking the Classmates tab.
When you provide LinkedIn with access to your existing contact lists (such as on Gmail or Yahoo! mail), rest assured that LinkedIn respects your privacy.