How to Sign Up for Etsy E-mail Newsletters
Etsy e-mail newsletters deliver handy information about all things Etsy right to your e-mail inbox. Get Etsy news, find out about labs, and even search wedding information in the various Etsy newsletters. Click any entry in an Etsy e-mail to launch Etsy and view the associated item listing.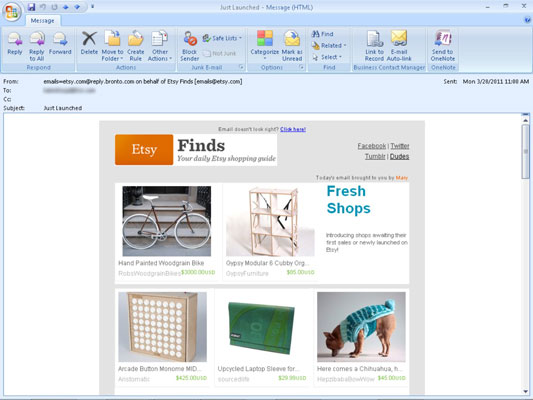 You can choose to subscribe to any or all of the following Etsy e-mail newsletters:
Etsy Dudes: Yes, it's true, Etsy members are overwhelmingly female. But when you're talking about a community as large as Etsy, you'll still find thousands of guys around. If you have a Y chromosome (or buy presents for someone who does), you'll love this weekly e-mail newsletter geared toward dudes.

Etsy Fashion: If fashion's your bag, you'll enjoy tracking fashion trends on Etsy with this biweekly e-mail newsletter.

Etsy Finds: This daily e-mail is chock-full of clever goodies from a variety of Etsy sellers.

Etsy Labs: Do you live in or near Brooklyn, N.Y., where Etsy's offices are located? If so, you'll want to sign up for the weekly Etsy Labs e-mail newsletter, which includes a schedule of events at Etsy Labs.

A community workspace of sorts, Etsy Labs plays host to free weekly Craft Nights, as well as other handmade-centric events. To make sure that out-of-towners aren't left out, Etsy broadcasts these events in the Virtual Labs.

Etsy News: For a monthly rundown of administrative announcements, site news (such as updates), and upcoming events, sign up for the Etsy News e-mail.

Etsy Success: For tips from top sellers, subscribe to the Etsy Success e-mail, sent biweekly.

Etsy Teams: The Etsy Teams e-mail, sent once a week, broadcasts team-related news.

Etsy Weddings: Sure, all weddings are special. But let's face it, weddings featuring handmade or vintage items are special-er. If you're in the midst of planning your own nuptials or you craft items that are made just for brides, grooms, or other members of the bridal party, this weekly e-mail newsletter is for you.
In addition to the e-mail newsletters listed here, Etsy sends newsletters in French, German, and Dutch, as well as ones for the U.K. crafting community.
To sign up for Etsy e-mail newsletters, log in to your Etsy account and follow these steps:
On any Etsy Blog page, scroll down until you see the Etsy Finds field, and then click the See Our Other Newsletters link.

The Etsy E-mails page opens.

Click the check box next to each newsletter you want to subscribe to.

Click the Save button.

Etsy signs you up to receive the newsletters you selected.
If you decide that you no longer want to receive a newsletter, simply click the blue Unsubscribe link that appears along the bottom of any Etsy newsletter.