ASL: How to Sign Medical and Hospital Terms
Medical words are simple in American Sign Language (ASL) — they usually look like what they mean. For example, blood pressure is signed by making a C handshape with your dominant hand and then placing it on your arm muscle. You then mimic working a pump bulb. Check out this table for some common medical terms and treatments.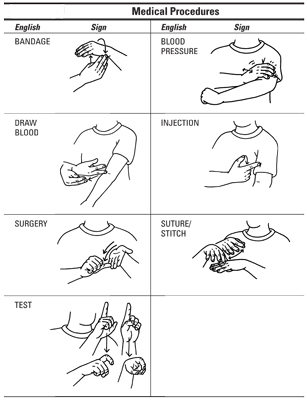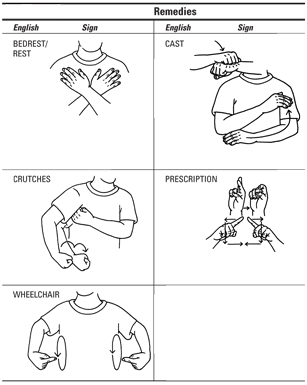 You fingerspell some medical terms, especially those that are abbreviations anyway. For example, you use the manual alphabet to sign CPR, ER, OR, MRI, ICU, IV, and x-ray, as well as the names of medications.
Try the following sentences for practice:
English: I need to check your blood pressure.

Sign: YOUR BLOOD PRESSURE — CHECK — ME MUST

English: He needs an injection.

Sign: INJECTION — NEED HIM

English: She has an infection.

Sign: INFECTION — HAS HER

English: Sit in the wheelchair.

Sign: WHEELCHAIR — SIT