How to Sign In to eBay
Sign In is possibly the most powerful of all the links on the eBay pages, and it should be your first stop if you plan on doing any business on the site.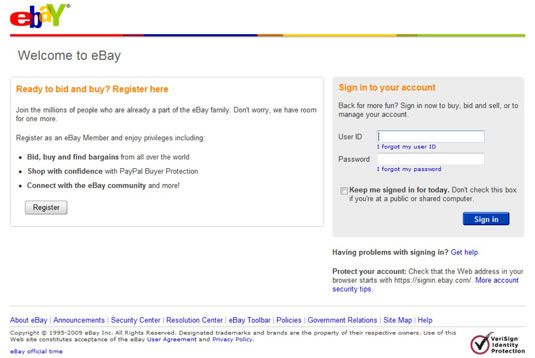 The eBay Sign In page.
If you use the link to go to the Sign In page and then sign in, you don't have to enter your user ID again that day. You can set your preferences to take you directly to your My eBay page after Sign In.
You can search for items on eBay without signing in, but what fun is that? If you haven't registered with eBay, you're pretty much out of luck if you find a great deal on a lamp that's just what you've been looking for — and the auction closes in 5 minutes!
If you're the only one who uses your computer, be sure to select the box that says Keep Me Signed in For Today. This way, you're always signed in to eBay every time you go to the site during the next 24 hours. The Sign In process places a cookie on your computer that remains on your computer for the rest of the day. If you don't select the box, you will be signed in only while your browser is open. After you close your browser, the cookie expires, and you have to sign in again.
Here's how to get to the eBay Sign In page and sign in:
Click the Sign In link at the top of any eBay page.

At the bottom of the new page that appears is a Secure Sign In page. The logo indicates that your personal information is even more secure than usual.

Enter your user ID and password.

Select the Sign Me In For Today box if you're not at a public computer.
You're now signed in to eBay and can travel and transact on the site with ease. You can enter your My eBay page by clicking the My eBay link that appears in the navigation bar.