ASL: How to Sign about Your Hobbies
From collecting cute stuff to surfing the Web, hobbies keep you busy and entertained. You may share that hobby with Deaf friends, or maybe you want to know the signs to explain those hobbies. The signs in this table show you how to tell people about your hobby and make it come alive!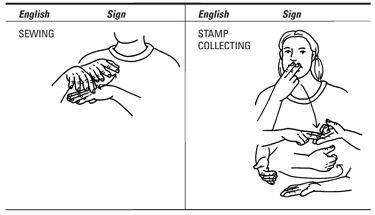 You sign browsing the Internet by showing the Sign for Internet, then sign read. Stamp collecting is stamp then collect — like gathering a bunch of stamps into the palm of your hand.
Here are some sentences about hobbies:
English: I collect stamps.

Sign: STAMPS — COLLECT ME

English: Knitting is relaxing.

Sign: KNITTING — RELAXING

English: I like sewing.

Sign: SEWING — LIKE ME