How to Show and Hide Facebook Timeline Posts
If you've been on Facebook for a while and start scrolling backward through you timeline, you may notice that you're not actually seeing everything. Facebook does some editing, but you can choose what you think is most important by hiding posts or featuring them.
If you leave things up to Facebook, you generally see everything that you've done in the last week and most things from the last month. But as you scroll back you see more and more "compiled" events. For example, a post summarizing the number of friends you added in the month of October. If you scroll back a year, you'll see a summary of all the friends you added last year. You might not see every photo you added, but maybe one photo from a big event that a lot of people commented on.
In other words, Facebook knows that not all posts are created equal, so it attempts to curate a selection of the best posts to represent your history. It compiles some things, features others, and ignores some things entirely. Facebook does this based on algorithms that look at things like how many likes or comments a certain post got. It favors things like photos. But Facebook doesn't always get it right, so you can always go back and curate your own timeline.
Hover over any post in your timeline to reveal two buttons in the upper-right corner of that post. The star button allows you to Feature a post. Featuring a post makes it bigger: Instead of taking up a box on one-half of the screen, it gets a box across the entire screen.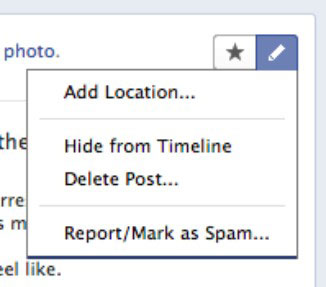 Clicking the pencil button allows you to edit the post. Editing it includes four options: Add Location, Hide from Timeline, Delete Post, or Report/Mark as Spam.
Hiding a post is different from deleting it. When you hide a post, you keep that post from appearing on your timeline, but the post still exists. So if, for example, you hide a particularly bad photo from your timeline, the photo album still exists. Anyone with permission to see it could navigate to your Photos section and check it out. But it's not going to get called out on your timeline. If you delete a post, it's gone forever; even you won't be able to find it on Facebook.
Keep this in mind if you're looking to remove things like photos or videos that only exist on Facebook. It might be more practical to change the audience that can see the photo album than to delete it entirely.
Also, for your own reference, Facebook provides an Activity Log of your timeline that only you can see. From the At-a-Glance box, click the View Activity button. This takes you to your Activity Log. This is a condensed version of your Profile (in other words, it's not as pretty). Scan through the items in this log. Click the down arrow to the right of any item to reveal a menu for it. Use this menu to hide or feature things from your timeline, change who can see something, or permanently delete it from Facebook.