How to Set Your Android Tablet's Flash
The camera on the Android tablet has three flash settings. With the auto setting, you don't have to think about whether to use the flash. You can also turn it on or off manually.
| Setting | Description |
| --- | --- |
| Auto | The flash activates during low-light situations but not when it's bright out. |
| On | The flash always activates. |
| Off | The flash never activates, even in low-light situations. |
To change or check the flash setting, look for the Flash icon on the Camera app's screen. The icon confirms the current flash setting. Choose the Flash setting from the pop-up menu that appears.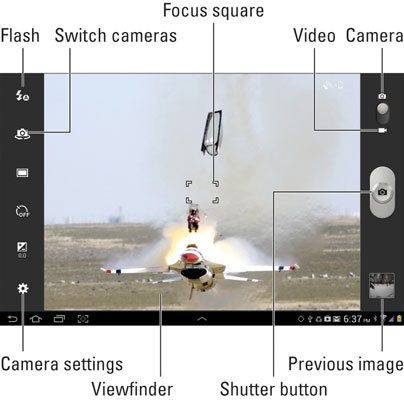 The Flash setting might also be found on a sliding control drawer or by first touching a Settings icon to see the Camera app's settings.

A good time to turn on the flash is when taking pictures of people or objects in front of something bright, such as Aunt Ellen showing off her prized peach cobbler in front of a nuclear explosion.

Some Android tablets lack flash hardware for the rear camera. On those devices, you cannot set the flash in the Camera app.