How to Send a Message on Facebook
On Facebook, you can communicate directly with friends through the New Message dialog box. A few variations of this box exist, but this is the basic one. To access it, go to your Inbox and click the New Message button.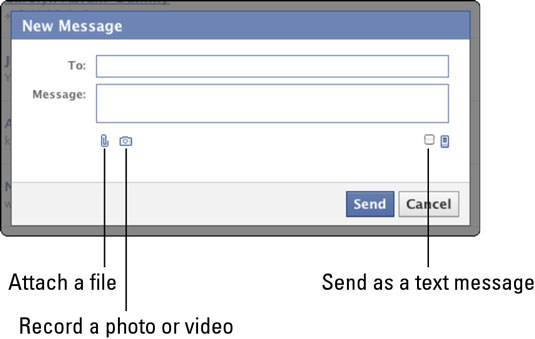 This dialog box has only two fields for you to fill out: a To field and a message box where you type the text of your message. If you're used to using e-mail, this may strike you as a little odd because it doesn't have a cc, bcc, or subject line.
One trait of e-mail is how much it mirrors the formal letters people used to write, whereas now, we all spend a lot of time writing quick notes to the people we see the most. Except for work messages, most of our e-mails are sent to our spouses ("Don't forget dinner with the Joneses tonight,") and our friends ("What are you up to this weekend?"). Given that Facebook is all about friends, and very rarely used for work, you are not very likely to require that subject line.
To address your message, simply start typing the name of the person you are messaging into the To field. Facebook auto-completes with the names of your friends as you type. When you see the name you want, highlight it and click or press Enter. You can type more than one name if you want, and you can also type in the name of a Group you belong to or a Friend List you have created.
You can send a message to someone's e-mail address if they aren't yet on Facebook. Simply type the full e-mail address. Separate multiple e-mail addresses with commas or semicolons.
Type your message into the message box. Three icons beneath the message box represent features that are entirely optional and fairly infrequently used, but just in case, here's what they are:
Attachment: Much as it does in many e-mail programs, the paperclip icon signifies attaching files to a message. Clicking the icon opens up an interface for searching and selecting files from your computer's hard drive. You can attach photos, videos, documents, and so on.

Record Photo/Video: If your computer has a built-in or attached webcam, click this icon to begin recording a video or taking a photo. Although most messages don't require this, such pictures can be very useful for saying hi to a family member who's far away.

Text Message: This check box allows you to choose to send a message to a friend as a text message to their phone if it's possible. If you're trying to reach someone right now, this can be pretty useful. Don't worry about your friend's messaging charges. This only works if they've opted in to receive these texts from Facebook.
When you're done writing your message, just click Send and be on your way. Your friend will receive the e-mail in their Facebook Inbox, as well as being notified with a little red flag on their Home page. Depending on their account settings, they may also receive an e-mail in their e-mail Inbox letting them know about a message in their Facebook Inbox.