How to See and Analyze Your Facebook Page Statistics
Facebook offers you statistics so you can see how your audience is responding to your Facebook Page. Within 48 hours of publishing your Facebook Page, you start to see exactly how people are engaging with it. From your Page, look on the right side for a link to View Insights. Clicking that link brings you to the Insights page, where you can see valuable metrics about how people are interacting with your Page. By default, you land on an overview page for that Page, which gives you feedback about the current success of your Page. You'll see two main graphs about your Page's metrics — information about users and information about interactions. You can adjust whether you see a week's worth or a month's worth of data at a time, as well as change the date range to a point in time in the past.
Want to do your own analysis of the data? Click the export button to export raw Facebook data into an Excel spreadsheet, where you can make your own custom reports.
The first graph on the overview page is about users. Clicking See Details brings you to the Users Insights page. Insights on Users focus on Likes (or fans) and Activity from those people. At the very top of the page, you see information about New Likes (in other words, how many new people have liked your page in the last week or month), Lifetime Likes (total number of fans), and monthly active users.
Active users are people who have viewed or interacted with your Page in the last month.
There are five graphs on the Users Insights page:
Active Users: This graph breaks down your daily, weekly, and monthly active users. Remember, an active user is defined as one who looks at or interacts with (commenting, Liking, and so on) your Page.

Daily Active Users Breakdown: This graph lets you delve further into how people are interacting with your Page. Are they just looking? Or are they Liking posts? Or leaving Wall posts themselves?

New Likes: This graph shows you the trend in Likes, and from where people are Liking your Page. You can use this information to figure out if your Page is spreading virally or if a spike in new fans is due to something like an e-mail blast you sent out.

Demographics: This graph shows the gender and age breakdown of your fans, as well as the countries, cities, and languages in which most of your fans fall.

Activity: Activity is actually broken into two graphs: Page Views and Media Consumption, which is the number of photo and video views in addition to audio listens. You can also see here the tabs that people visit on your Page and the external referrers (websites outside of Facebook that link to you).
The second graph on the overview page is about Interactions. Clicking See Details brings you to the Interactions Insights page.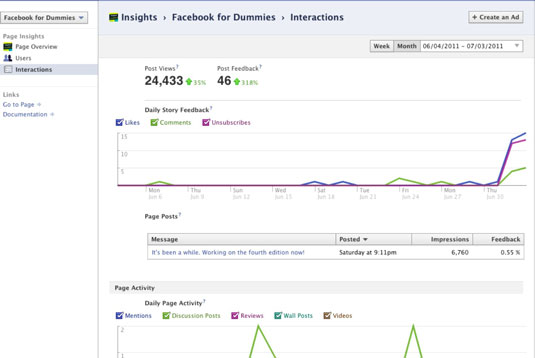 The two big numbers at the top of the page here correspond to the number of times a post you made was viewed in the time period you specify, and the number of Likes and comments left on posts you created.
The Daily Story Feedback graph shows Likes and comments in correspondence to date so you can check to see which posts generated the most feedback. Additionally, any unsubscribes.
The Daily Page activity graph compares how often all the different types of interactions are happening, so you can see if you're getting more Wall posts than reviews.
To modify the graphs you're looking at, use the check boxes at the top of each graph to change how many different things you're tracking at one time.