How to Review Notifications on Your Samsung Galaxy Tab
Notifications appear as icons at the bottom right of the Sumsung Galaxy Home screen. You can check out notifications individually or look at the whole swath of them all at once.
To review an individual notification, touch its icon at the bottom right of the screen. The notification pop-up disappears rather quickly, so to act on the notification, you must touch it. Or you can dismiss the notification by touching the X (Close) button.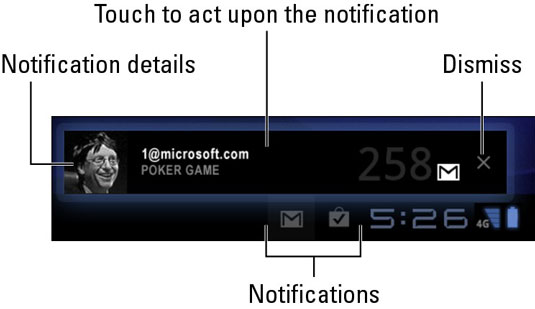 After acting upon or closing a notification, it disappears from the list. Or just touch anywhere else on the Home screen to dismiss the pop-up window.
Only a maximum of the last five most recent notifications are shown on the bottom of the screen. To see the rest, you must pop up the full notification list.
To see all notifications, touch the time display in the lower-right corner of the Home screen. You see a scrolling list of all notifications.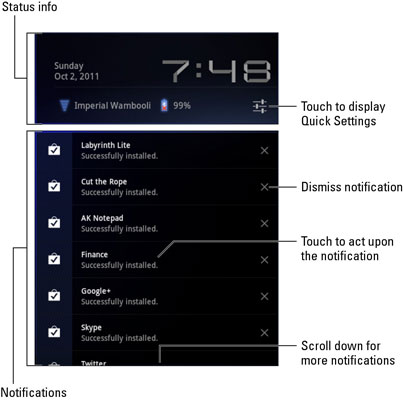 You can scroll through the list. To peruse a specific notification, touch it. To close a notification, touch the X (Close) button on the right.
To hide the notification list, touch the Back icon button.

Or you can touch anywhere else on the Home screen.
The notifications at the bottom of the Home screen might not show up if the Notifications Quick Settings has been turned off.

If you don't deal with the notifications, they can stack up!

Notification icons disappear after they've been chosen.

Dismissing some notifications doesn't prevent them from appearing again in the future. For example, notifications to update your programs continue to appear, as do calendar reminders.

Some programs, such as Facebook and the various Twitter apps, don't display notifications unless you're logged in.

The Galaxy Tab plays a sound, or ringtone, when a new notification floats in. You can choose which sound plays.